Optical DATA
System
Parallax Free, Reflex, Collimator System
Magnification
(1X) or Fixed 2 Power Lens for 2X
Eye relief
Unlimited, No centering required
Reticle, size1
Red dot, dia. (1, 2 or 4 MOA)
Optical coating
Anti Reflex coating all surfaces. Multi-layer coating for reflection of red light.
ELECTRONIC DATA
Battery Type
(1) 3 Volt Lithium DL1/3N2
Battery Life
50,000 hours at setting 7 out of 10
Dot Brightness
10 positions, Off, 1-9 Daylight, 1 Ex Bright
MECHANICAL DATA
Material housing
Extruded high strength aluminum
Surface finish
Anodized Black, non glare
Material lens covers
Polymer, black
Adjustment
1 click = 10 mm at 80 meters = 13 mm at 100 meters = ½" at 100 yds
Mounting
2 rings, 30 mm diameter
DIMENSIONS
Length
125 mm (4.9")
Width/height
55 mm (2.2")
Ring width
30 mm
Weight
200g (7.1 oz)
ENVIRONMENTAL DATA
Temperature Range
-30ºC to +60ºC (-20ºF to +140ºF)
Water resistance
5m (15ft) water depth
1MOA (Minute Of Angle)
1 MOA = 30 mm at 100 meters = 1" at 100 yards
All models beside Aimpoint CompC SM have the new CETechnology.
Dimensions and weights for the 7000L are given with Flip-Up Lens Covers

Batteries
Lithium DL 1/3N, 3V Battery
Part#10315



Note2
These Aimpoint sights originally used (2) 1.5-volt mercury batteries. Due to pollution concerns, the mercury batteries have been legislated out of existence by many governments. The replacement battery is a single 3-volt lithium battery. The polarity of the lithium battery is opposite of the polarity of the older mercury batteries. So the new battery must be inserted in the opposite direction. Also there is a plastic coating on the outside of the battery, which must be removed before the battery is inserted into the battery compartment of Mk III sights.



Aimpoint CompC3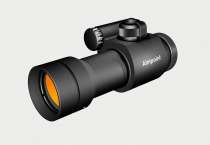 Specifically designed to use whenever you need a compact sight, Aimpoint's CompC3 is the lightest sight in its class. It is perfect for those up-close, short-range hunting and shooting conditions that demand extreme accuracy and speed. Like most Aimpoint® sights, the CompC3 works under all weather conditions, from the polar ice caps to the tropics.
* Available in 2 MOA or 4 MOA dot sizes
* Submersible to 15' (5 Meters)
*Available in a fixed 2X Version (below)
*
Aimpoint CompC3 2X
<![if !vml]>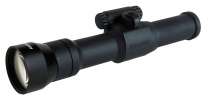 <![endif]>These sights are identical to the basic models, but are equipped with a fixed 2-power lens system that provides low magnification for increased range while maintaining unlimited eye relief and rapid target acquisition.
* Available in 1 MOA or 2 MOA dot sizes
* Submersible to 15' (5 Meters)
*Available in a 1X Version (above)

Click here for a full list of Accessories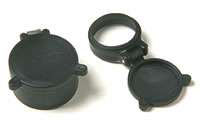 Flip-Up Lens Cover, Front
30mm CET sights (not 2X)
Part#10311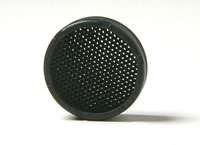 Killflash ARD, Not for 2X
Part#12239
(Old P/N: 10345)

<![if !vml]>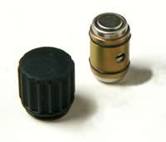 <![endif]>
Double Battery Module, Sleeve, Cap and Strap,
Part#11302
Not for 2X
Part#10345