The Raytheon IR-250"D" Digital is the first member of a family of products based on Uncooled Ferroelectric Detector technology that delivers on the promise of truly low cost.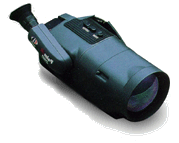 This portable thermal camera offers true see-in-the-dark capability, as well as the ability to "see" thermal signatures in any light condition. Heavy fog, rain, smoke and other obscurants dramatically degrade photonic vision, but the IR 250D Cameras provide useable thermal imagery under almost every natural and man-made obscurant.

The IR 250D operates in the far infrared spectrum, sensing the temperature differences between objects. Depending on the local atmospheric conditions, switching between Black-Hot or White-Hot polarity offers even more enhancement options when dealing with a diverse climate. Warmer objects will appear darker or lighter (user selectable), than cooler objects. The camera can detect a person from a distance of up to 1/2 mile away.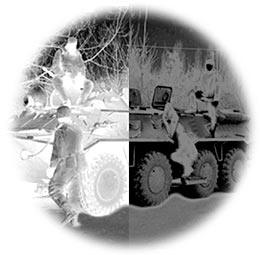 The unit is ready to operate in approximately 30 seconds and operates for 4 hours per charge. The camera has a power focus and zoom. Ergonomically designed to be held in one hand or it can be mounted on a tripod.
| | |
| --- | --- |
| | Search and Rescue |
| | Area Sweeps |
| | Border Patrol |
| | Fugitive Search |
| | Nighttime Navigation |
| | Routine Nighttime Patrol |
Optional Interchangeable Lenses
25mm Lens or 50mm Lens {f/1} manual focus w/iris
or
75mm Lens {f/1} electric focus
KERIF Price: $Call
100mm Lens {f/1} electric focus
KERIF Price: $Call
150mm Lens {f/1} electric focus
KERIF Price: $Call

System Technical Specifications

| | | |
| --- | --- | --- |
| | | |
| Detector Type | | Uncooled Ferroelectric |
| Spectral Response | | 7 - 14 microns |
| Cold Start Time | | <30 seconds (typical) |
| Detector Resolution | | 320 x 240 |
| Detection Range | | 3000 ft. |
| Focus Range | | 20' to ∞ (infinity) |
| Depth of Field | | 25' to ∞ |
| Field Of View | | 12° to 9° |
| Bright/Contrast | | Automatic |
| Frame Rate | | 30Hz NTSC |
| Size | | 9½" x 4" x 4" |
| Weight w/o Battery | | 3.4 lbs. |
| Power Source | | 6 VDC (NiMh) Battery |
| Infrared Polarity | | White-Hot/Black-Hot |
NSN: 5855-01-490-6600
Optional Accessories

Battery Charger Kit
Charger, DC Adapter, 120/220 AC Conv. KERIF Price: $Call
25/ 50mm Lens Mount Plate w/conn.
KERIF Price: $Call
100/150mm Lens Mount Plate w/conn.
KERIF Price: $Call