| | |
| --- | --- |
| | Bed Vaults |
| | |
| | |
| | |
| | PVS-7 Parts |
| | |
| | Scopecoat Covers |
| | |
| | |
| | |
| | |
| | |
| --- | --- |
| | |
| | Doctor Optic MRD |
| | |
| | |
| | |
| | |
| | |
| --- | --- |
| | GloWands |
| | |
| | |
| | |
| | |
| | |
| | |
| | |
| --- | --- |
| | |
| | AN/PVS-31 BNVD |
| | |
| | |
| | |
| | |
| | BTS Thermal |
| | GPNVG |
| | G15 |
| | |
| | |
| | |
| | |
| --- | --- |
| | |
| | IFF-67 Blood Markers |
| | |
| | |
| | |
| | |
| | |
| --- | --- |
| | |
| | |
| | |
| | AN/PVS-15 |
| | ATN G15 |
| | ATN NVG7 |
| | ATN PVS7 |
| | ATN PS15 |
| | BNVD |
| | ENVG Fusion |
| | SENVG Fusion |
| | SENTINEL BNVS |
| | |
| --- | --- |
| | |
| | |
| | |
| | |
| | DBAL-A2 |
| | |
| | |
| | |
| | |
| | |
| | |
| | |
| | |
| | |
| | |
| | |
| | |
| --- | --- |
| | |
| | AN/PVS-18 M983 |
| | GT14 |
| | |
| | |
| | |
| | LRS Surveillance |
| | |
| | |
| | |
| | |
| --- | --- |
| | BTS Thermal |
| | |
| | |
| | |
| | |
| | |
| | |
| | |
| | |
| --- | --- |
| | Bed Vaults™ |
| | |
| | |
| | Extreme Series |
| | Mobile Command |
| | |
| | TrunkVaults™ |
Helpful Info
Export Regulations
FAQ's
How to Order
Terms & Conditions
BAE Systems: ATS-6000 AN/PAS-13C(V)3 Heavy Thermal Weapon Sight
ATS-6000 640x480 Heavy Thermal Weapon Sight Law Enforcement/Military Only



MSRP = $31,432.00 KERIF $24,937.00
NO LONGER AVAILABLE NSN: 5855-01-523-7715
Kit Includes: Soft Case, OPMAN, Torque Limiting Rail Grabber Mount, Quick Reference Card, (2) Battery Cassettes, (12) AA lithium Batteries, Lens Cleaning Kit
We accept Gov't Credit Cards and can submit invoices online

* 2200 meter Vehicle Detection Range
* Identify Heat Signatures in Rain, Fog and Smoke
* Passive Infrared Weapon Sighting System
* Rugged, Reliable Performance
* Shock Protected Precision Optics
* Can be used in Complete Darkness to Broad Daylight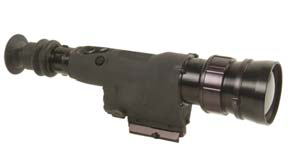 The Heavy Thermal Weapon Sight (HTWS) or "AN/PAS-13C(V)3 Heavy TWS" utilizes market preferred Vanadium Oxide (VOx) Microbolometer thermal imaging technology and boasts an impressive 640x480 resolution and 25 Micron Pitch.
Menu-based, push-button controls allow you to select which reticle best suits your operation and offers several adjustment, including polarity and brightness to facilitate use in all conditions. The Heavy Thermal Weapon Sight weighs in at only 3.9 lbs and has a generous FOV (Field of View) of 10.3˚ and a narrow FOV (Field of View) of 3.9˚in e-Zoom mode, which gives you 3X Digital Magnification with a simple push of a button.
<![if !vml]>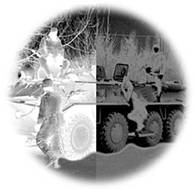 <![endif]> The ATS-6000 enables individual and crew served weapon gunners to see deep into the battlefield increasing their surveillance and target acquisition range. The ATS-6000 compliments current and future infantry armament providing the war fighter the ability to reach out and overmatch the enemy in all battlefield conditions and obscurants both day and night. Designed around a highly modular and common MicroIR® Microbolometer sensor architecture, the ATS-6000 provides high sensitivity in a small, light weight package. This same modular MicroIR® technology has been well proven in firefighting, first responder, and Homeland Security applications. Additionally, the ATS-6000 is designed around common and modular assemblies that reduce logistics and depot level requirements.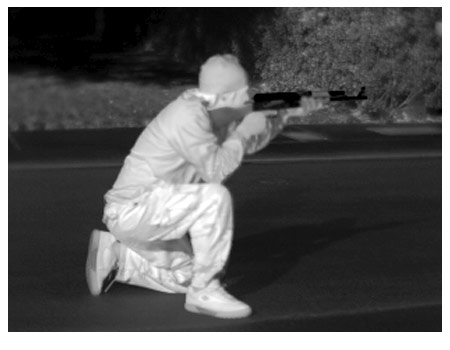 When viewed through the ATS-6000, heat-emitting objects such as humans, animals and recently-operated vehicles stand out dramatically against their surroundings, defeating camouflage and other methods of visual concealment. Multiple reticle settings allow you to mount the CS6000 on just about any type of weapon, and with an adjustable objective focus lens capable of seeing objects from 10 feet to infinity, there isn't much you're going to miss.
The ATS-6000 operates on (6) Standard AA batteries and has auxiliary power ports for optional external power sources (AC electrical outlets or vehicle cigarette lighters). To extend the battery life, use Lithium batteries. The sight features electronically programmable reticles and have alpha/numeric system information overlaid on the eyepiece display and analog video output. The NTSC compatible video output port allows the image, and reticle, to be displayed on an external video monitor or recorded by video recorder. When used solely as an observation device, the unit may be operated hand-held or tripod mounted.




These sights are proudly Made in the USA

System Technical Specifications

Focal Plane Array

Material & Structure:

VOx Microbolometer

Pixel Count

640 x 480, 25 Micron Pitch

Video Refresh Rate

30 Hz

Spectral Response

8 to 12 microns

Thermal Sensitivity

<50mK

Thermal Imaging Performance

Initial Start-up Time
<30 Seconds
Detection Range (Vehicles)
2200 Meters
Polarity Control
Selectable White Hot/Black Hot
Field of View (FOV)

10.3º WFOV; 3X e-zoom = 3.4ºNFOV

Gain/Level

Manual or Automatic Control w/Enhanced Image Processing

Magnification
3X Digital e-Zoom

Reticles

Reticles

M4/M16 Rifle, M2 .50 cal Machine Gun, M24 Sniper Rifle, Mk19 40 mm Grenade Launcher, M107 50 cal Barrett

Physical Characteristics

Video Out
Monochrome w/Reticle SMPTE-170M, NTSC
Viewfinder Display
Gray-scale White-Hot/Black Hot
Weight
3.9 lbs w/Batteries, Rail Grabber & Spacer
Size in inches
15.9 (L) x 3.9(W) x 5.7(H)
Power Requirement
(6) AA Batteries
Base Requirement
MIL-STD-1913 "Picatinny Rail"
Attachment
Torque Limiting Mount w/return to zero repeatability
Battery Life
10 Hours, Typical (Longer with Lithium)
Exterior Finish
Shock and Water Resistant
Operating Temperatures
-46°C to +49°C, (-50.8°F to +120.2°F)
Utilizing un-cooled Microbolometer technology, the ATS-6000 is a completely passive infrared weapon sighting system which allows users to identify the heat signatures of individuals or objects such as vehicles up to 2,200 meters (7,218' or 1.367 miles away); day or night and in rain, fog and smoke. As with previous models, no external light source is required, and the unit may be used in complete darkness or broad daylight.

EXPORT LICENSE REQUIRED.
This Thermal Weaponsight is restricted to Gov't & Law Enforcement agencies only.
Please be prepared to provide credentials when ordering.
Export of the commodities described herein is strictly prohibited without a valid export license issued by the U.S. Department of State Office of Defense Trade Controls prescribed in the International Traffic in Arms Regulation (ITAR), Title 22, Code of Federal Regulation, Parts 120-130
In "High-Risk" security applications (Nuclear Plants, Oil Refineries and Pipelines, Water Treatment Plants, Port Authorities, Penitentiary Facilities), government law enforcement agencies can more effectively locate, identify and neutralize hostile threats with reduced risk.

Home | Contact Us | About KERIF | Export Regulations | How to Order
<![if !vml]>

<![endif]> <![if !vml]>

<![endif]>
(702) 324-6463 / (702) 869-8451 FAX
sales@nitevis.com or kerifnightvision@earthlink.net