| | |
| --- | --- |
| | Bed Vaults |
| | |
| | |
| | |
| | PVS-7 Parts |
| | |
| | Scopecoat Covers |
| | |
| | |
| | |
| | |
| | |
| --- | --- |
| | |
| | Doctor Optic MRD |
| | |
| | |
| | |
| | |
| | |
| --- | --- |
| | GloWands |
| | |
| | |
| | |
| | |
| | |
| | |
| | |
| --- | --- |
| | |
| | AN/PVS-31 BNVD |
| | |
| | |
| | |
| | |
| | BTS Thermal |
| | GPNVG |
| | G15 |
| | |
| | |
| | |
| | |
| --- | --- |
| | |
| | IFF-67 Blood Markers |
| | |
| | |
| | |
| | |
| | |
| --- | --- |
| | |
| | |
| | |
| | AN/PVS-15 |
| | ATN G15 |
| | ATN NVG7 |
| | ATN PVS7 |
| | ATN PS15 |
| | BNVD |
| | ENVG Fusion |
| | SENVG Fusion |
| | SENTINEL BNVS |
| | |
| --- | --- |
| | |
| | |
| | |
| | |
| | DBAL-A2 |
| | |
| | |
| | |
| | |
| | |
| | |
| | |
| | |
| | |
| | |
| | |
| | |
| --- | --- |
| | |
| | AN/PVS-18 M983 |
| | GT14 |
| | |
| | |
| | |
| | LRS Surveillance |
| | |
| | |
| | |
| | |
| --- | --- |
| | BTS Thermal |
| | |
| | |
| | |
| | |
| | |
| | |
| | |
| | |
| --- | --- |
| | Bed Vaults™ |
| | |
| | |
| | Extreme Series |
| | Mobile Command |
| | |
| | TrunkVaults™ |
Helpful Info
Export Regulations
FAQ's
How to Order
Terms & Conditions
<![if !vml]>

<![endif]>MSRP: No Price Listed
LE/Govt.: $Call for Discount

UNFILMED White Phosphor Available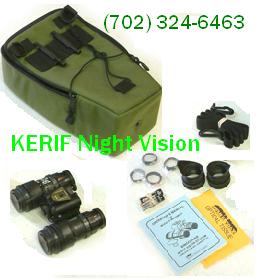 Supplied with:
* MILSPEC Binocular Assembly
* 2 AA Batteries
* OP Manual
* Soft Carry Case w/Alice Clips
* 2 Rubber Eyecups
* Lens Cleaning Paper
* 2 Sacrificial Windows
* 2 Demist Shields
* 1 YEAR WARRANTY
OPTIONAL Facemask or Helmet Mount

KERIF Night Vision is proud to offer the M953 (AN/PVS-15) Dual-Tube Night Vision Binocular/Goggle to our ever growing list of "Top-of-the-Line" products. These NVG's are manufactured to the highest quality standards required from our US Military, utilizing the latest Thin-Filmed, Unfilmed, and even Unfilmed White Phosphor Tubes, only available from L-3, with an impressive Signal-to-Noise (SNR) Ratio of 25:1.

L-3's Unfilmed tube technology dramatically improves NVG performance and resolution in the lowest light conditions. The binocular viewing has large 25mm eyepieces to optimize depth perception with improved 40˚FOV (Field of View) that provides improved eye relief, accommodating operators wearing eyeglasses.

The M953 is built right here in the USA and has ergonomically designed interface controls that comprise of interpupillary and vertical/fore-aft/tilt adjustments for improved situational awareness.
Designed to operate during vehicle operation, assault missions, and amphibious operations.
There are multiple helmet mount options.

Based on the military nomenclature AN/PVS-15, the M953's are used by US Special Operations Forces to gain the advantage at night without sacrificing space and creating neck strain. Significant L-3 EOS design improvements, such as single battery operation and submersion to 66', increases situational awareness, improves system performance and enhances ergonomic characteristics.

Other features include High-Light Cutoff and Automatic Brightness Control (ABC) to help protect the tubes and optimize the viewing image. A built-in IR illuminator, familiar to the PVS-14's and PVS-7's group of NVG's, helps keep dark alleys, caves, rooms with no windows, and other low-light surroundings from requiring additional lighting equipment.

Optional 3X Magnifier Lenses greatly enhance your long range capabilities, although narrowing your Field-of-View. Perfect for Night Surveillance, Covert Tracking, and Search & Rescue Operations.

EXPORT LICENSE REQUIRED.
Export of the commodities herein described are strictly prohibited without a valid export license issued by the US Dept of State, Office of Defense Trade Controls, prescribed in the International Traffic in Arms Regulation ITAR, Title 22, Code of Federal Regulations, Parts 120-130


Goggles are restricted to Gov't & Law Enforcement agencies only.
Please be prepared to provide credentials when ordering.
Tube Specifications (Subject to change without notice)
Tube Type
Resolution
Signal-to-Noise
FOM
ALPHA
45 lp/mm Min
17.1:1 (min)
1250 Max
DELTA
64 lp/mm Min
21.0:1 (min)
1600 Max
OMEGA
64 lp/mm Min
21.0:1 (min)
Unrestricted
INFINITY
64 lp/mm Min
25.0:1 (min)
Unrestricted
System Optics
Magnification:
1X
Field of View (FOV):
40˚
Objective Lens:
27mm, (1.1")
Focus Range:
25 cm (9.8") min
Eye Relief:
25mm, (1")
Diopter Adj.
+2 to -6
Warranty:
1 Year
Power Sources:
1 AA Battery
Battery Life:
≈ 16 Hours at Room Temperature
Mechanical Specifications
Power Sources:
1 AA Battery
Battery Type / Life:
(1) AA / 10 Hours
Dimension: in
L: 6.5 "
W: 4.9"
H: 3.3"
Dimension: cm
L: 16.5cm
W:12.4cm
H: 8.5cm
Total Weight (oz./lbs/g)
22 oz
1.6lbs

726 grams

Color:
Black
Water Resistance:
Submersible to 66' (20 m)
Mounts:
Helmet Mount Adapter
Choose your product by Tube Grade (Must Call for Quote)
ALPHA (245050-001)
KNV-PVS-15-Alpha
DELTA (245050-002)
KNV-PVS-15-Delta
OMEGA (245050-004)
KNV-PVS-15-Omega
INFINITY (245050-005)
KNV-PVS-15-Infinity
DEFENDER (245050-006)
KNV-PVS-15-Defender
Optional Accessories (INFORMATION ONLY- Accy's NOT available through KERIF)
Spare Battery
Compass

Case, Carrying Commercial

Case Shipping & Storage

Filter, Daylight Training

Filter Kit, Sacrificial
Spare Parts Kit, M953
Demist Shield Assembly, Screw in

Lens Paper

Mount, PASGT/RBR Helmet

Lens Covers w/Retainers
Lens w/Adapters, 3X
Lens w/Adapters, 5X
Training & Operator's Manual
Eyecup Assembly, 25mm Eye relief

Home | Contact Us | About KERIF | Export Regulations | How to Order
<![if !vml]>

<![endif]> <![if !vml]>

<![endif]>
(702) 324-6463 / (702) 869-8451 FAX
sales@nitevis.com or kerifnightvision@earthlink.net