| | |
| --- | --- |
| | Bed Vaults |
| | |
| | |
| | |
| | PVS-7 Parts |
| | |
| | Scopecoat Covers |
| | |
| | |
| | |
| | |
| | |
| --- | --- |
| | |
| | Doctor Optic MRD |
| | |
| | |
| | |
| | |
| | |
| --- | --- |
| | GloWands |
| | |
| | |
| | |
| | |
| | |
| | |
| | |
| --- | --- |
| | |
| | AN/PVS-31 BNVD |
| | |
| | |
| | |
| | |
| | BTS Thermal |
| | GPNVG |
| | G15 |
| | |
| | |
| | |
| | |
| --- | --- |
| | |
| | IFF-67 Blood Markers |
| | |
| | |
| | |
| | |
| | |
| --- | --- |
| | |
| | |
| | |
| | AN/PVS-15 |
| | ATN G15 |
| | ATN NVG7 |
| | ATN PVS7 |
| | ATN PS15 |
| | BNVD |
| | ENVG Fusion |
| | SENVG Fusion |
| | SENTINEL BNVS |
| | |
| --- | --- |
| | |
| | |
| | |
| | |
| | DBAL-A2 |
| | |
| | |
| | |
| | |
| | |
| | |
| | |
| | |
| | |
| | |
| | |
| | |
| --- | --- |
| | |
| | AN/PVS-18 M983 |
| | GT14 |
| | |
| | |
| | |
| | LRS Surveillance |
| | |
| | |
| | |
| | |
| --- | --- |
| | BTS Thermal |
| | |
| | |
| | |
| | |
| | |
| | |
| | |
| | |
| --- | --- |
| | Bed Vaults™ |
| | |
| | |
| | Extreme Series |
| | Mobile Command |
| | |
| | TrunkVaults™ |
Helpful Info
Export Regulations
FAQ's
How to Order
Terms & Conditions
<![if !vml]>

<![endif]>
All Units Include: Soft Carry Case, Batteries, Operators Manual, Neckcord, Lens Caps, Eyecups, Lens Paper, Demist Shields, Sacrificial Windows, Operator's Card and Shuttered Eyeguard.
The Binocular/Monocular Night Vision Device (BMNVD) is a revolutionary new concept which combines all the best features of a monocular and binocular device into one fully functional night vision product. Prior to the BMNVD, most bridge type designs attempted to combine two independent monocular systems into a bridge in order to make them into a binocular. This required the use of two fully functioning monocular systems such as two PVS-14s.
Although this concept worked, there are drawbacks to this method, some of which are serious. These include an inability to collimate the binocular system and being extremely heavy due to the redundancy of having dual batteries, circuit boards and large amounts of plastic housing material which is required by each monocular, but would otherwise be unneeded in a true binocular design.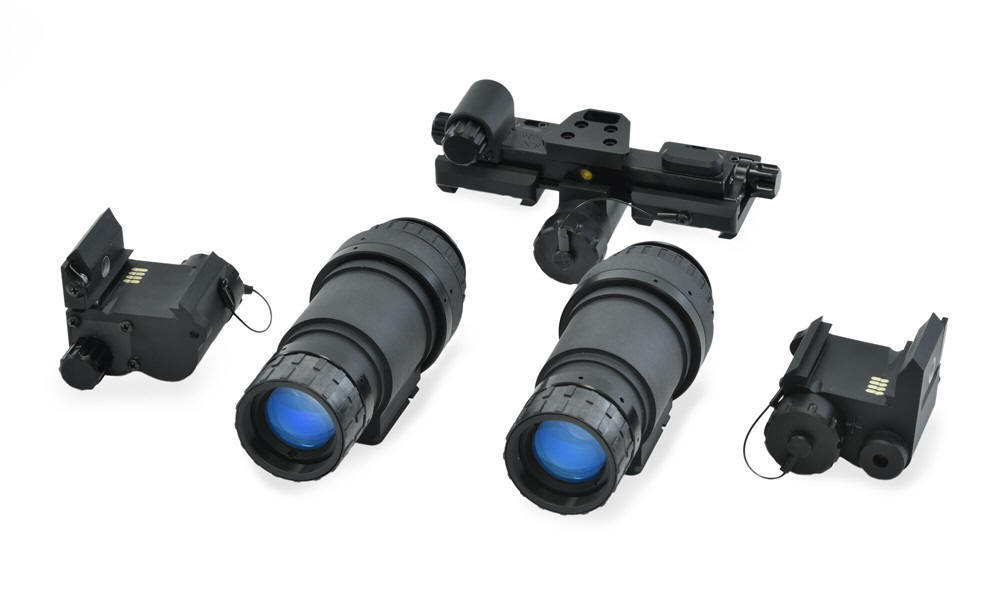 The BMNVD overcomes these issues by attaching two monocular housings to the bridge. The monoculars then draw power directly from the bridge. When a monocular is needed to be used individually, you simply press a button, slide the monocular off the bridge, and then slide the power pack onto the monocular housing, which converts the monocular housing into a fully functional standalone night vision monocular which can be hand held, head, helmet, or weapon mounted, using the same adapters and mounts as the AN/PVS-14. The disassembly and reassembly process from Binocular to monocular can be completed in less than one minute.
The BMNVD also utilizes MIL SPEC AN/PVS-14 optics and accessories, which make for a truly affordable high quality system, and two PVS-14s can be easily converted into a BMNVD, which will allow the 14s to still be utilized for every application which the AN/PVS-14 is used for now, and will also allow them to be used as a true dual tube goggle, which is light weight, fully collimated and nitrogen purged. The BMNVD product line also runs on a CR-123 battery which delivers more than 40 hours of use.
SPECIFICATIONS

Power Source

(1) CR 123 Battery

Focus Range

9.8" (25 cm) to ∞ (Infinity)

Magnification

1X

Eye Relief

25mm (1")

Field of View

40°

Waterproof

Submersible to 66' (20 meters) depth

Diopter Adjustment

-6 to +2 Diopters

Weight

21.7 oz / 618 grams / 1.362 lbs

Dimensions in inches

4.4" x 4.96" x 3.2"

Dimensions in centimeters

11.18 x 12.6 x 8.13
FEATURES
* 10 Year Warranty
* MX-10160 Image Intensifiers
* Utilizes PVS-14 Accessories
* Multiple Tube Options
* Dovetail Mounting Options
* Built-In Infrared LED
* Low Battery Warning
* Auto Brightness Control
* Submersible to 66'
* Can be used Independently
GEN III
BMNVD-ULT
MIL SPEC
BMNVD-VG
MIL SPEC
BMNVD-YG
MIL SPEC
BMNVD HP+
MIL GRADE
BMNVD P+
MIL GRADE
BMNVD P
COMMERCIAL
Power Supply:
Pinnacle
Pinnacle
Pinnacle
Pinnacle
Pinnacle
Pinnacle
Signal to Noise Ratio:
30.0 min.
28.0 min.
25.0 min.
25.0 min.
20.0 min.
16.2 min.
Photo Response
2400 min.
2200 min.
1800 min.
2200 min.
1750 min.
1350 min.
Halo:
n/a **
n/a **
n/a **
n/a **
n/a **
n/a **
(EBI) Electronic Background Input
2.5 max.
2.5 max.
2.5 max.
2.5 max.
2.5 max.
2.5 max.
Resolution:
64 lp/mm min.
64 lp/mm min.
64 lp/mm min.
64 lp/mm min.
64 lp/mm min.
57 lp/mm min.
Max Spots Allowed in Each Zone
ZONE
1___2___3
ZONE
1___2___3
ZONE
1___2___3
ZONE
1___2___3
ZONE
1___2___3
ZONE
1___2___3
...........>.012 - .015
0___0___0
0___0___0
0___0___0
0___0___0
0___0___0
0___0___0
...........>.009 - .012
0___0___0
0___0___0
0___0___0
0___0___0
0___0___0
0___0___1
...........>.006 - .009
0___0___1
0___0___1
0___1___1
0___0___1
0___1___1
0___2___2
...........>.003 - .006
0___0___2
0___0___2
0___2___2
0___0___2
0___2___2
0___2___3
WHITE PHOSPHOR

BMNVD-WPHP

BMNVD-WP

BMNVD-XLS

Power Supply:

Pinnacle

Pinnacle

Non-Gated

Signal to Noise Ratio:

25.0 min.

16.2 min.

16.2 min.

Photo Response

2200 min.

1350 min.

1350 min.

Halo:

n/a **

n/a **

n/a **

Electronic Background Input:

2.5 max.

2.5 max.

2.5 max.

Resolution:

64 lp/mm min.

57 lp/mm min.

57 lp/mm min.

Max Spots Allowed in Each Zone, Spot Size (in.)

ZONE
1___2___3

ZONE
1___2___3

ZONE
1___2___3

...........>.012 - .015

0___0___0

0___0___0

0___0___0

...........>.009 - .012

0___0___0

0___0___1

0___0___1

...........>.006 - .009

0___1___1

0___2___2

0___2___2

...........>.003 - .006

0___2___2

0___2___3

0___2___3

Home | Contact Us | About KERIF | Export Regulations | How to Order
<![if !vml]>

<![endif]> <![if !vml]>

<![endif]>
(702) 324-6463 / (702) 869-8451 FAX
sales@nitevis.com or kerifnightvision@earthlink.net