| | |
| --- | --- |
| | Bed Vaults |
| | |
| | |
| | |
| | PVS-7 Parts |
| | |
| | Scopecoat Covers |
| | |
| | |
| | |
| | |
| | |
| --- | --- |
| | |
| | Doctor Optic MRD |
| | |
| | |
| | |
| | |
| | |
| --- | --- |
| | GloWands |
| | |
| | |
| | |
| | |
| | |
| | |
| | |
| --- | --- |
| | |
| | AN/PVS-31 BNVD |
| | |
| | |
| | |
| | |
| | BTS Thermal |
| | GPNVG |
| | G15 |
| | |
| | |
| | |
| | |
| --- | --- |
| | |
| | IFF-67 Blood Markers |
| | |
| | |
| | |
| | |
| | |
| --- | --- |
| | |
| | |
| | |
| | AN/PVS-15 |
| | ATN G15 |
| | ATN NVG7 |
| | ATN PVS7 |
| | ATN PS15 |
| | BNVD |
| | ENVG Fusion |
| | SENVG Fusion |
| | SENTINEL BNVS |
| | |
| --- | --- |
| | |
| | |
| | |
| | |
| | DBAL-A2 |
| | |
| | |
| | |
| | |
| | |
| | |
| | |
| | |
| | |
| | |
| | |
| | |
| --- | --- |
| | |
| | AN/PVS-18 M983 |
| | GT14 |
| | |
| | |
| | |
| | LRS Surveillance |
| | |
| | |
| | |
| | |
| --- | --- |
| | BTS Thermal |
| | |
| | |
| | |
| | |
| | |
| | |
| | |
| | |
| --- | --- |
| | Bed Vaults™ |
| | |
| | |
| | Extreme Series |
| | Mobile Command |
| | |
| | TrunkVaults™ |
Helpful Info
Export Regulations
FAQ's
How to Order
Terms & Conditions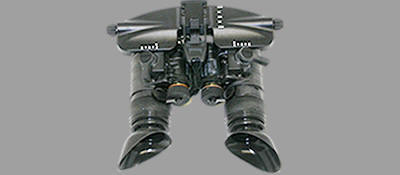 The ANV-20B utilizes two US Made Generation 3 (64lp) image intensifier tubes to provide crisp, clear images under the darkest conditions. The same high quality tube as the ITT6015 but with a higher resolution. Utilizing the most advanced Mil. Spec. housing, this system is built to handle the toughest of environments.
A dual tube binocular design offers greater performance than a single tube design; improved depth perception is an important benefit when it comes to operating vehicles or working on equipment at night. Perfect for any situation.
The ANV-20B can be hand held, or attached to a standard PVS-7 head-mount or helmet mount. Because the ANV-20B is built from two independent Monoculars, it can be easily separated to create two separated night vision Monoculars, or can be attached to a weapon to provide maximum flexibility. When used as a Monocular, the included weapons mount and the included head mount can be attached AT THE SAME TIME! This allows for quick interchangeability between uses without removing or installing anything.
The ANV-20B is smaller and lighter then the any other dual tube system available AND is fully submersible to a depth of 66 feet (20 Meters). The ANV-20B will work with either a
single
AA or 3.5 volt lithium battery offering more flexibility and longer battery life. The integrated IR illuminator enhances the ability of the user to read maps, and operate in confined spaces.
Available as a monocular ANV-20 (click for details)
System Technical Specifications

| | | |
| --- | --- | --- |
| | | |
| Magnification | | 1x |
| f-number | | 1.2 |
| Field of View | | 40 degrees |
| Diopter Adjustment | | -4+6 |
| Eye Relief | | 27mm |
| Weight | | 9.6 oz. |
| Voltage | | 3.0 VDC |
| Power Source | | (1) AA or 3V Lithium |
| Continuous Operation | | >40 hours |
| IR Illuminator Range | | ~20 meters |
| Dimensions | | 4.2 x 2.0 x 2.5 |

Home | Contact Us | About KERIF | Export Regulations | How to Order
<![if !vml]>

<![endif]> <![if !vml]>

<![endif]>
(702) 324-6463 / (702) 869-8451 FAX
sales@nitevis.com or kerifnightvision@earthlink.net