| | |
| --- | --- |
| | Bed Vaults |
| | |
| | |
| | |
| | PVS-7 Parts |
| | |
| | Scopecoat Covers |
| | |
| | |
| | |
| | |
| | |
| --- | --- |
| | |
| | Doctor Optic MRD |
| | |
| | |
| | |
| | |
| | |
| --- | --- |
| | GloWands |
| | |
| | |
| | |
| | |
| | |
| | |
| | |
| --- | --- |
| | |
| | AN/PVS-31 BNVD |
| | |
| | |
| | |
| | |
| | BTS Thermal |
| | GPNVG |
| | G15 |
| | |
| | |
| | |
| | |
| --- | --- |
| | |
| | IFF-67 Blood Markers |
| | |
| | |
| | |
| | |
| | |
| --- | --- |
| | |
| | |
| | |
| | AN/PVS-15 |
| | ATN G15 |
| | ATN NVG7 |
| | ATN PVS7 |
| | ATN PS15 |
| | BNVD |
| | ENVG Fusion |
| | SENVG Fusion |
| | SENTINEL BNVS |
| | |
| --- | --- |
| | |
| | |
| | |
| | |
| | DBAL-A2 |
| | |
| | |
| | |
| | |
| | |
| | |
| | |
| | |
| | |
| | |
| | |
| | |
| --- | --- |
| | |
| | AN/PVS-18 M983 |
| | GT14 |
| | |
| | |
| | |
| | LRS Surveillance |
| | |
| | |
| | |
| | |
| --- | --- |
| | BTS Thermal |
| | |
| | |
| | |
| | |
| | |
| | |
| | |
| | |
| --- | --- |
| | Bed Vaults™ |
| | |
| | |
| | Extreme Series |
| | Mobile Command |
| | |
| | TrunkVaults™ |
Helpful Info
Export Regulations
FAQ's
How to Order
Terms & Conditions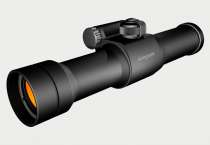 11418 9000SC 2X 1 MOA DISCONTINUED


Aimpoint Rings, Mounts & Accessories
11406 9000L 4 MOA Govt./LE - $Call
11419 9000L 2 MOA Govt./LE - $Call
11411 9000L 2X, 2 MOA DISCONTINUED
11420 9000L 2X, 1 MOA DISCONTINUED
11418 9000SC 2X, 1 MOA DISCONTINUED

Whether you are hunting deer, moose, or bear, this full-length sight delivers unsurpassed performance and reliability. Primarily designed for rifles with standard or magnum-length actions, the Aimpoint® 9000L can handle the most extreme hunting conditions.

ACET - Advanced Circuit Efficiency Technology

Aimpoint 9000L
<![if !vml]>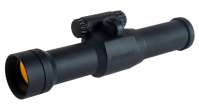 <![endif]>Full-length sight intended primarily for sporting rifles with standard and magnum length actions. this sight can be used with virtually all 30 mm ring systems (2-Rings). Built to handle heavy recoil and is a favorite of big game rifle hunters around the world.
* Available in 2 MOA or 4 MOA dot sizes
* Submersible to 15' (5 Meters)
*Available in a fixed 2X Version (below)
*
Aimpoint 9000L 2X - DISCONTINUED
These sights are identical to the basic models, but are equipped with a fixed 2-power lens system that provides low magnification for increased range while maintaining unlimited eye relief and rapid target acquisition.
* Available in 1 MOA or 2 MOA dot sizes
* Submersible to 15' (5 Meters)
*Available in a 1X Version (above)

Big game rifle hunters Like all Aimpoint sights, the 9000L is built to handle heavy recoil and is the favorite of big game rifle hunters around the world. Because the 9000L uses Aimpoint's ACET diode technology, you can leave your 9000L turned on all season long without worrying about dead batteries.



Reflex Sights are rugged precision electronic optical red dot sights developed for civilian, military and law enforcement applications. Aimpoint sights are designed for the "two eyes open" method of sighting, which greatly enhances situational awareness and target acquisition speed. Thanks to the parallax-free design, the dot follows the movement of the user's eye while remaining fixed on the target, eliminating any need for centering. Further, the sight allows for unlimited eye-relief.
Unique features of the Aimpoint® 9000L
* Ideal for big game & sport-shooting rifles w/standard or magnum-length action and semi-automatic rifles
* 2-ring configuration fits nearly all 30mm ring mounting systems
* ACET technology allows 50,000 hours of operation on one battery
* Available in 2 dot sizes (2 and 4 MOA)
* Fully waterproof
Standard features for all Aimpoint® sights
* Unlimited Field Of View (FOV)
* Parallax Free, Unlimited Eye Relief
* No centering required
* Unaffected by sub-zero temperatures
* Increased aiming confidence
* No Hazardous Materials
* Mechanical Switch for Speed and Reliability
* No Laser Emission that could be harmful to your eyes
* 2 Year Warranty Professional Use
* 10 Year Warranty Personal Use
* ACET Technology giving up to 50,000 hrs of use on one battery

Optical DATA
System
Parallax Free, Reflex, Collimator System
Magnification
(1X) or (Fixed 2 Power Lens for 2X - DISCONTINUED)
Eye relief
Unlimited, No centering required
Red Dot Size1
Red Dot, diameter (1, 2 or 4 MOA)
Lightsource
LED (Light Emitting Diode) Completely Eye-Safe
Lightsource Wavelength
650nm Red Light
Optical coating
Anti Reflex coating all surfaces. Multi-layer coating for reflection of red light.
Night Vision Compatible
No
ELECTRONIC DATA
Battery Type
(1) 3 Volt Lithium 2L76 or DL1/3N2
Battery Life
50,000 hours at setting 7 out of 10 (ACET Diode)
Dot Brightness
10 Settings: Off, 1-9 Daylight, 1 Ex Bright
Dot Intensity Adj.
Manual Rotary Switch
MECHANICAL DATA
Material Housing
Extruded High Strength Aluminum, Anodized
Surface finish
Carbon Black, Semi-Matte
Material Rubber Cover
Chloroprene Rubber (Corresponding to MIL-R-6855)
Material lens covers
Thermoplastic Elastomer, Black, Non-Glare
Adjustment

Range ±2 m at 100 meters, in Windage and Elevation


1 click = 10 mm at 80 meters = 13 mm at 100 meters = ½" at 100 yards
Mounting
2 Rings, 30 mm diameter PN: 12229
Distance between rings
Minimum: 60mm (2.4"); Maximum 155mm (6.1")
DIMENSIONS
Length
200 mm (7.9") (235mm [9.3"] for 2X - DISCONTINUED)
Width/Height
55 mm (2.2") (60mm [2.4"] for 2X - DISCONTINUED)
Objective Diameter
38mm (1.5")
Tube Diameter
30mm (1.18")
Ring Width
Max 115 mm (4.5"), Min 50mm (2")
Weight
230g (8.1 oz) (315g [11.1oz] for 2X - DISCONTINUED)
Sight Only 210g (7.4oz)
ENVIRONMENTAL DATA
Temperature Range
-30ºC to +60ºC (-20ºF to +140ºF)
Water resistance
5m (15ft) water depth
Optional Accessories
12229

Rings 30mm - Black, one pair. For 9000 sights & previous 7000 sights.
Fits on Weaver rail. Screws and Allen Key included.

12239

Killflash - Anti-Reflection Device - eliminates potentially compromising reflections from the objective lens

12216
Polarization Filter - Polarization Filter for reduction of sun reflection. Fits rear of Comp sights & 9000 sights.
12218
Yellow Filter - Yellow Filter for contrast increase. Fits rear of Comp sights & 9000 sight
12462

Flip-Up Front Lens Cover w/Killflash - Anti-Reflection Device

When removed, the filter can be integrated in the lens cover. The KillFlash® ARD (Anti Reflection Device) is designed to eliminate reflections from the objective lens. For Comp sights & 9000 sights.
12224

Flip-Up Rear Lens Cover

Fits rear of Comp sights & 9000 sight
12223

Flip-Up Front Lens Cover

Fits front of Comp sights & 9000 sight
12240

Transparent Flip-Up Rear Lens Cover

Fits rear of Comp sights & 9000 sight
12241

Transparent Flip-Up Front Lens Cover

For Comp sights & 9000 sights.
10628

Bikini-Style Lens Cover

For Comp sights & 9000 sights.
10315

Lithium Battery DL1/3N

For 9000 Series, CompC3, CompM2, ComML2, CompM3, CompML3.
*MOA (Minute Of Angle) 1 MOA = 30mm at 100m = 1" at 100 yards

Batteries Lithium DL 1/3N, 3V Battery
Note2
These Aimpoint sights originally used (2) 1.5-volt mercury batteries. Due to pollution concerns, the mercury batteries have been legislated out of existence by many governments. The replacement battery is a single 3-volt lithium battery. The polarity of the lithium battery is opposite of the polarity of the older mercury batteries. So the new battery must be inserted in the opposite direction. Also there is a plastic coating on the outside of the battery, which must be removed before the battery is inserted into the battery compartment of Mk III sights.

BATTERY FOR AIMPOINT® SIGHTS

The following battery types should be used in the different Aimpoint® Sight models. There are 5 groups of products using different battery types.
Please look for your product in one of the groups listed below:

NOTE
Lithium type of battery is preferred in cold weather conditions.
Zinc-Air batteries cannot be used due to the limited amount of air in the battery compartment!

GROUP 1
Aimpoint® Sights Models
CompM4; MPS3
Battery type
Any good quality AA battery available on the market

GROUP 2
Aimpoint® Sights Model
9000 series and all its 2X; CompC3; CompC3 2X; CompC SM; CompM3; CompML3; CompM2; CompML2; Laser aiming device LPI

Discontinued products:
7000 series and all its 2X; CompC; CompC 2X; 5000 XD; Comp XD and all their 2X; CompM XD; CompML XD; 5000, Comp and all their 2X; CompM; CompML; 1000; 3000 and Bow

Battery alternative: Note!
The following alternative is only valid for the following models:

5000 XD; Comp XD and all their 2X; CompM XD; CompML XD; 5000; Comp and all their 2X; CompM; CompML; 1000; 3000 and Bow. The alternative is: 2 pcs of a 1.5-volt alkaline battery. Each battery has a size of Ø11.6 x 5.4-mm.

Manufacturer of Alkaline Silver Oxide

GROUP 3
Aimpoint Sights Model
Micro H-1; Micro R-1; Micro T-1
Battery
One 3V Lithium battery, Type CR2032

GROUP 4
Aimpoint® Sights Model
Discontinued products
MPSII; Mark III; 2000; MPS; and Laserdot LSR-2
Battery
123 or DL 123A (Duracell), BR2/3A (Panasonic) CR 123A (Varta), Ø16.9x34.5 mm, 1pc, 3V, Lithium or PC1A 2 pcs, 1.5-volt each, Alkaline (See note below) *

GROUP 5
Aimpoint® Sights Model
Discontinued products Electronic ElectronicG2
Battery
PC1A*(GP Sylva), Ø15.8x16.5 mm, 2 pcs, 1.5-volt each, Alkaline

* Note!
The PC1A battery has recently been discontinued, but you might still find them on the market for a while. After that, there will not be any replacement battery available for these sights.
Assembly and preparation for use
WARNING: Insure the weapon is unloaded and the safety selector is in the "safe" position before attempting to install, remove or perform maintenance on the sight.
Installing Battery
a) Remove battery cap by turning it counter clockwise.
b) Insert battery with positive (+) end toward cap.
Caution: while replacing battery (not necessary when the sight is unused)
Before installing battery cap, inspect that the O-ring is present and not damaged.
Failure to do so could result in water leakage into the battery compartment.
c) Install battery cap by turning clockwise until snug. Hand tighten only. Using tools could damage equipment.
d) Verify that red dot is present by turning the rotary switch clockwise.
Installing Ring and Sight on the weapon
Aimpoint's sights are designed for installation on most types of weapons. For mounting, certain models come with one or two rings, for other models use standard rings available on the market. If your weapon does not have or support an appropriate base(s), please consult your dealer, gunsmith or other qualified source.
a) When using two separate bases on the weapon, ensure that the bases are parallel and aligned.
b) Assemble the ring(s) on the appropriate weapon base (a Weaver or Picatinny base).
When using 2 rings, make sure that the distance between the rings is appropriate to the sight.
Note: make sure that you have space between the bottom front part of the sight and the top of the base/weapon.
c) For 9000 models: Assemble the sight to the weapon with any standard 30 mm rings.
d) Ensure that the sight is correctly positioned for right-handed (fig. 5) or left-handed shooters (fig. 6).
e) When using lens covers, ensure that they are correctly positioned and can be opened.
f) Finally, make sure that all screws are firmly tightened around the sight.
g) Complete the zeroing
Zeroing
Aimpoint's sights are delivered in a centered position. Normally this means that only small adjustments are necessary, providing that the base(s) are properly aligned.
CAUTION:
Do not continue to adjust Windage and Elevation mechanisms if you encounter resistance.
The elevation adjustment screw is located on top of the sight, while the windage screw is located on the right or left side, depending on how the sight has been mounted on the weapon. Aimpoint sights can be installed to support either right-handed (fig. 5) or left-handed (fig. 6) shooters.
a) Open front and rear lens covers.
b) Turn the rotary switch clockwise until the red dot has a sufficient intensity to contrast against the target.
c) Remove the windage and elevation adjustment caps.
NOTE: Each click of the adjustment screw corresponds to a 10 mm movement of the point of impact at 80 meters, (3 mm at 25 meters, 13 mm at 100 meters and 25 mm at 200 meters or 1/4" at 50 yards, 1/2" at 100 yards and 1" at 200 yards).
d) Insert adjustment tool (coin, screwdriver, knife) or cartridge casing in adjustment screw slot and turn as follows:
• To move the point of impact to the right, turn windage adjustment screw counter clockwise (clockwise if screw located on left side).
• To move the point of impact to the left, turn windage adjustment screw clockwise (counter clockwise if screw located on left side).
• To move the point of impact up, turn elevation adjustment screw counter clockwise.
• To move the point of impact down, turn elevation adjustment screw clockwise.
e) Confirm zeroing by firing at least three shots at a zeroing target. Check impact points on zeroing target to confirm accuracy and repeat above procedure if required.
f) After initial firing, ensure that the mount and sight are secure.
g) Turn rotary switch to OFF position (counter clockwise).
h) Close front and rear lens covers.
O
peration under extreme conditions
a) Extreme heat (moist or dry). No special procedures required.
b) Extreme cold. Extreme cold might shorten battery life.
c) Salt air. No special procedures required.
d) Sea spray, water, mud and snow. Ensure that battery cap and two adjustment screw caps are tight before exposing the sight to sea spray, mud, snow or before immersing the sight in water. Hand tighten only.
Keep lens covers closed when sight is not being used. Clean lenses with lens paper/cloth and wipe the sight dry as soon as possible after exposure to water, sea spray, mud or snow.
e) Dust storms and sand storms. Keep lens caps closed when sight is not being used.
f) High altitudes. No special procedures required.
CAUTION: The lenses shall never be cleaned with fingers but with lens paper/cloth.
If no lens paper/cloth available:
– To clear away debris (sand, grass etc): blow away the dirt.
– To clean lenses: mist up the lenses and dry them with a clean and soft piece of cloth.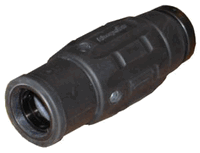 11324 11324 Aimpoint 3X Magnifier 68 CCO (2 MO
Designed for compatibility with Aimpoint® sights and for maximum flexibility and increased performance in the field. The 3X Mag is a revolutionary tool for military personnel, law enforcement, sport shooters and hunters. When combined with Aimpoint's patented Twist Mount, the 3X Magnifier gives the user something never before possible – the ability to switch in a split second from CQB (Close Quarters Battle) to semi-sniping and vice versa.
Hunters can rapidly switch from non-magnifying to magnifying while still being able to keep their Aimpoint® sight on their firearm. The versatile 3X Magnifier can also be used as a handheld magnifying glass monocular for discrete observation and identification.
3X Magnifier Unique Features
| | |
| --- | --- |
| | Mounts on a rail system behind Aimpoint® sights |
| | Extremely fast and ingenious mounting solution |
| | Can also be mounted with a regular 30 mm ring |
| | Provides extended range to the operator |
| | Combines CQB & semi-sniping operation |
| | Increases confidence, performance and flexibility |
| | No influence on point of impact - No need to re-zero |
| | Doubles as handheld magnifying monocular |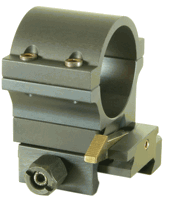 11355 3X Twist Mount Kit Includes Ring & Base
The recommended mount for the 3X Magnifier is the Aimpoint Twist Mount, which allows for quick attachment and detachment. Fits any MIL-Std 1913 Picatinny Rail.
11400
3X Twist Mount Ring
11401
3X Twist Mount Base
Aimpoint guarantees this product to be free from original manufacturer defects in material and/or workmanship under normal use for a period of
two years for professional or frequent competition use and ten years for personal use from the date of purchase.
Personal use shall mean: use of the sight in a way that implies less exposure than professional use.
Professional or frequent competition use shall mean: daily or highly frequent use of the sight in professional activities (military or law enforcement) or under conditions that could be compared to as professional.
The warranty is valid provided that the sight has not been misused, disassembled or tampered with in any way.
Any attempt to disassemble or repair the product will void the warranty.
This warranty shall not apply to rubber and thermoplastic components.
This warranty is limited to the original purchaser of the product/s and is not transferable to any third party, unless otherwise follows from mandatory law. Any warranty claim must be accompanied by a copy of the original receipt showing date of purchase and shall be notified as soon as can be
reasonably required. In case the product is defective in original manufacturer material and/or workmanship, Aimpoint undertakes either to repair, replace or compensate the purchaser its purchase price for such defective product.
AIMPOINT DISCLAIMS ALL IMPLIED WARRANTIES IN CONNECTION WITH THE SALE OF THIS PRODUCT, INCLUDING, BUT NOT LIMITED TO, THE IMPLIED WARRANTY OF FITNESS FOR A PARTICULAR PURPOSE AND THE IMPLIED WARRANTY OF MERCHANTABILITY. THERE ARE NO EXPRESS WARRANTIES THAT EXTEND BEYOND THIS WRITTEN WARRANTY OR ANY EXPRESS WARRANTY CONTAINED IN THE PRODUCT LITERATURE INCLUDED IN THE PACKAGING OF THIS PRODUCT.

Home | Contact Us | About KERIF | Export Regulations | How to Order
<![if !vml]>

<![endif]> <![if !vml]>

<![endif]>
(702) 324-6463 / (702) 869-8451 FAX
sales@nitevis.com or kerifnightvision@earthlink.net