| | |
| --- | --- |
| | Bed Vaults |
| | |
| | |
| | |
| | PVS-7 Parts |
| | |
| | Scopecoat Covers |
| | |
| | |
| | |
| | |
| | |
| --- | --- |
| | |
| | Doctor Optic MRD |
| | |
| | |
| | |
| | |
| | |
| --- | --- |
| | GloWands |
| | |
| | |
| | |
| | |
| | |
| | |
| | |
| --- | --- |
| | |
| | AN/PVS-31 BNVD |
| | |
| | |
| | |
| | |
| | BTS Thermal |
| | GPNVG |
| | G15 |
| | |
| | |
| | |
| | |
| --- | --- |
| | |
| | IFF-67 Blood Markers |
| | |
| | |
| | |
| | |
| | |
| --- | --- |
| | |
| | |
| | |
| | AN/PVS-15 |
| | ATN G15 |
| | ATN NVG7 |
| | ATN PVS7 |
| | ATN PS15 |
| | BNVD |
| | ENVG Fusion |
| | SENVG Fusion |
| | SENTINEL BNVS |
| | |
| --- | --- |
| | |
| | |
| | |
| | |
| | DBAL-A2 |
| | |
| | |
| | |
| | |
| | |
| | |
| | |
| | |
| | |
| | |
| | |
| | |
| --- | --- |
| | |
| | AN/PVS-18 M983 |
| | GT14 |
| | |
| | |
| | |
| | LRS Surveillance |
| | |
| | |
| | |
| | |
| --- | --- |
| | BTS Thermal |
| | |
| | |
| | |
| | |
| | |
| | |
| | |
| | |
| --- | --- |
| | Bed Vaults™ |
| | |
| | |
| | Extreme Series |
| | Mobile Command |
| | |
| | TrunkVaults™ |
Helpful Info
Export Regulations
FAQ's
How to Order
Terms & Conditions
<![if !vml]>

<![endif]>
The Clip-on Thermal Imager, is the most versatile thermal system. Use alone as a hand, head or weapon mounted thermal system or 'clip' onto an existing night vision device to create a fused image of night vision and thermal together.

The imager slides over the objective lens of your existing night vision goggles, binoculars, or weapon sights, such as:


PVS-14/7B


BNVD/G


PVS-15


PVS-18


PVS-22


PVS-23


PVS-24


PVS-26
The imager enhances the user's current night vision capabilities by adding a thermal overlay or 'fused' image without changing equipment. This helps the user identify if a vehicle was just used or if people were in a room. This system can also see into dark openings such as doorways or windows and help perform search and rescue missions.
Power on with your night vision device (1 CR123A battery) and it enables you to detect heat sources to greatly improve situational awareness. Its lightweight design can be utilized for extended periods of time without adding much weight for the user. Able to detect heat signals up to 500m even with no natural light, thick dense fog, smoke and other environmental conditions, the imager is designed to withstand those harsh environments and waterproof up to 66 feet.
There are multiple modes of thermal. Full thermal mode, patrol mode, and outline mode. Conveniently changeable with easy to use functions.
All Units Include: Mounting Bracket (PVS-7, 14, 23, 15, or 18), CR 123A Batteries, Lens Cleaner, Storage Pouch, Operator's Manual and Quick Guide.
Optional Accessories: Picatinny Mounting Bracket (PVS-22, 24, or 26), Eyepiece Adaptor for Conversion to Handheld Imager, Auxiliary Battery Pack, Battery Pack Helmet Adaptor, and Custom Menu Configuration.
Resolution

320 x 240 pixels

Field of View

20º circular, centered

Objective

Fixed Focus

Magnification

1X optical unity

Aperture

f/1.15

Sensor Type

Uncooled LWIR Microbolometer

Wavelength

8-12 µm

Display

Micro Display

Polarity

White Hot/Black Hot

Brightness

Adjustable

Dimensions

5.5"L x 1.5"W x 3"H

Weight

150 grams w/battery
Thermal Range

Clear

Obscured

Detection

>500m

>500m

Recognition

>300m

>300m

Battery

(1) 3VDC Lithium, CR123A

Operating Time

One Battery

>3.0 h @23ºC

Auxiliary Battery Pack

>8.0 h @23ºC

Combine
w/o Change of Batteries

>11.0 h @23ºC

Single CR123A Battery Usage or Helmet Mounted AA Battery Pack

Submersible to 20 Meters (66 Feet)

Clip on to Existing NVD's or Use as Stand Alone Thermal Imaging Device

Detect Through Thick Environments (Fog & Smoke)

90 Day Warranty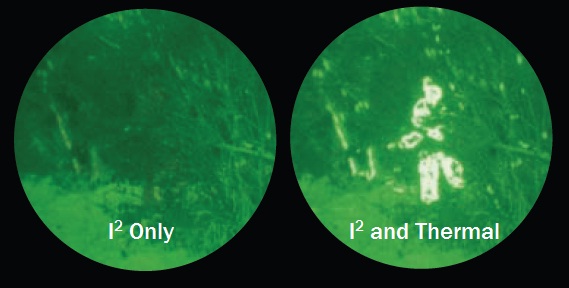 Clip-On Thermal Imager
List
Kit: Soft Case, Lens Cloth, OPMAN, Batteries, and Mounting Bracket (Specify when ordering)
Clip-On Night Vision Thermal + Kit

$Call

COTI Accessories
List
EP1
Eyepiece Adapter

$Call

BP1
Battery Pack Kit

$Call

B1
Mount Bracket BNVD, PVS-7, PVS-14, PVS-23

$Call

B2
Mount Bracket PVS-15, PVS-18

$Call

B3
Mount Bracket UNS-SR

$Call

PM1
Picatinny Mount Bracket, PVS-24

$Call

Home | Contact Us | About KERIF | Export Regulations | How to Order
<![if !vml]>

<![endif]> <![if !vml]>

<![endif]>
(702) 324-6463 / (702) 869-8451 FAX
sales@nitevis.com or kerifnightvision@earthlink.net