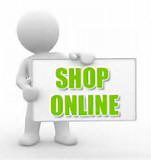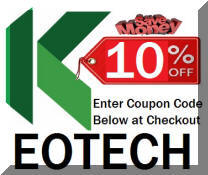 EOTech 512.XBOW
UPC: 672294600466
MSRP: $499.00
KERIF Price: $472.00





These EOTech sights are proudly manufactured in the USA
* The 512 Models are NOT Night Vision compatible
Ordering Information

512.XBOW

UPC: 672294600466

Operation
Optics
Transmission Holography - 100% Parallax Free
Magnification
1X
Eye Relief
Unlimited
Sealing
Fog proof Internal Optics
Waterproof
Submersible to 10'
Adjustment (per click)
0.5 MOA (1/2" at 100 yards)
Adjustment Range
+/- 40 MOA Travel
Mount (Adjustable for Width)
1" Weaver or MIL-STD-1913 "Picatinny" Rail
Return to Zero
Repeatable to 1 MOA after Re-Mounting
Heads-Up Display Window
Optical Surfaces
Anti-Glare Coating
Window Dimensions
1.2" x 0.85" (30mm x 23mm)
Front Window Material
1/8" Solid Glass
Rear Window Material
Shatter Resistant Laminate 3/16" Thick
Field-of-View (100yds)
30yds (28m) at a 4" Eye Relief
Standard Reticle

512.XBOW: Ballistic Reticle w/Ranging Dots for Crossbow

Electrical
Brightness Adj. Range
146,000:1 brightest to lowest
NV Brightness Range:
1280:1 with NV Switch Engaged
Function Button Location
Back
Power Source
(2) AA Alkaline, Lithium or Rechargeable Battery
Battery Life (At Level 12)
600 Alkaline / 1,100 Lithium
Brightness Settings
20 Daytime Settings with Scrolling Feature
Auto Battery Check Indicator
Flashing reticle upon start-up
Auto Shut-down
At 8 hrs- programmable to 4 hrs
DIMENSIONS
Length
Width
Height
5.4" (137 mm)
2.0" (50.8 mm)
2.25 (57 mm)
Weight
10.9 oz (310 grams)
ENVIRONMENTAL DATA
Temperature Range
-40ºF to 150ºF
Max Storage Temp.
-80ºC (176ºF)
Night Vision Compatibility:
NO

*This Holographic Weapon Sight must be exported from the United States in accordance with Export Administration Regulations ECCN 0A987. Diversion contrary to U.S. law is prohibited. In accordance with U.S. law (Title 15 CFR part 746 and Supplement No. 1 to Part 774; and Title 31 CFR) resale/re-export or transfer of Holographic Weapon Sight Models 552, 551, 512, 511, 4X magnifier and 3X magnifier to certain designated countries is prohibited without prior written consent of the U.S. Department of Commerce. The Holographic Weapon Sight Models 553, 557 and 555 are controlled under U.S. International Traffic in Arms Regulations (ITAR) and may not be exported without proper authorization by the U.S. Department of State.





EOTech's Frequently Asked Questions Page
HWS Features
Electronic Features

The HWS uses state-of-the-art digital electronics design. Twenty brightness levels (plus 10 additional NV settings) ensure proper brightness control in either low light or very bright sunlight. An on-board microprocessor provides automatic battery check indicator, up/down brightness scrolling and programmable auto shutdown features. All electronics are fully encapsulated in shock absorbing resin compound.
The HOLOgraphic Advantage
The holographic patterns have been designed to be instantly visible in any light, instinctive to center regardless of shooting angle, and to remain in view while sweeping the engagement zone. Reticles are designed as large, see-through patterns to achieve lightning quick reticle to target acquisition without covering or obscuring the point of aim.
Heads Up, Full View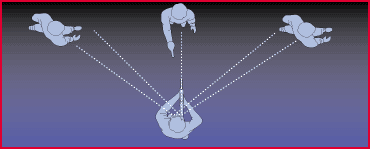 The HWS employs a true Heads-Up Display that eliminates blind spots, constricted vision, or the tunnel vision associated with tube sights. All user controls are flush to the HWS's streamline housing with no protruding knobs, battery compartments or mounting rings blocking vision at the target area. True, 2 eyes open shooting is realized. Instant threat identification is achieved by maximizing the operator's peripheral vision and ultimately gaining greater control of the engagement zone.

The Magic of Holography
In holography, all the information required to reconstruct the reticle image is recorded everywhere in the Heads-Up display window. If the window is obstructed by mud, snow, rain, etc., the HWS remains fully operational, with point of aim/impact being maintained. Even in such extreme cases where the laminated window is shattered, the HWS is fully functional! As long as the operator can see through any portion of the window, the entire reticle pattern is visible on target...the operator can still engage with confidence.

HWS Benefits

Extreme Durability
The HWS has been designed and tested to provide consistent, reliable performance even in the most hostile operational environments. It is waterproof, fog proof, shockproof, and temperature proof.
The HWS is designed to withstand Mil-Spec drop tests and still remain fully operational and hold zero. The HWS has been extensively tested in a punishing recoil simulator generating 3,500 G's of acceleration in less than 0.5 milliseconds (the recoil of a .454 Casull revolver) as well as various environmental chambers).
The Heads Up Display is constructed with a 3 layer, shatterproof laminate glass that is 3/16" thick for added durability. Additional protection of the Heads Up Display is provided with a "roll bar" ruggedized hood.
No Revealing Signature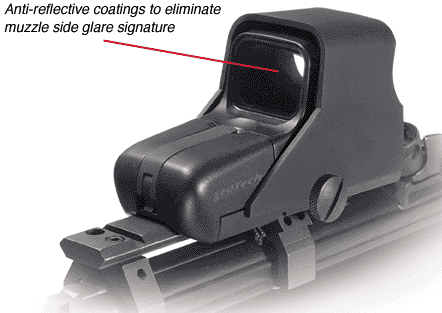 The HWS does not emit any muzzle side position revealing light signature...the projected reticle pattern is visible only to the operator. Even Gen III night vision equipment cannot detect muzzle side signature of the operator's position.
All optical surfaces are flat and treated with anti-reflective coatings eliminating additional muzzle side signature due to reflective glare. No need for costly glare elimination filters that reduce the effective light transmission and further dim the target area.



Home | Contact Us | About KERIF | Export Regulations | How to Order
<![if !vml]>

<![endif]> <![if !vml]>

<![endif]>
(702) 324-6463 / (702) 869-8451 FAX
sales@nitevis.com or kerifnightvision@earthlink.net