| | |
| --- | --- |
| Please Call (702) 324-6463 or email sales@nitevis.com | |

| | |
| --- | --- |
| | Bed Vaults |
| | |
| | |
| | |
| | PVS-7 Parts |
| | |
| | Scopecoat Covers |
| | |
| | |
| | |
| | |
| | |
| --- | --- |
| | |
| | Doctor Optic MRD |
| | |
| | |
| | |
| | |
| | |
| --- | --- |
| | GloWands |
| | |
| | |
| | |
| | |
| | |
| | |
| | |
| --- | --- |
| | |
| | AN/PVS-31 BNVD |
| | |
| | |
| | |
| | |
| | BTS Thermal |
| | GPNVG |
| | G15 |
| | |
| | |
| | |
| | |
| --- | --- |
| | |
| | IFF-67 Blood Markers |
| | |
| | |
| | |
| | |
| | |
| --- | --- |
| | |
| | |
| | |
| | AN/PVS-15 |
| | ATN G15 |
| | ATN NVG7 |
| | ATN PVS7 |
| | ATN PS15 |
| | BNVD |
| | ENVG Fusion |
| | SENVG Fusion |
| | SENTINEL BNVS |
| | |
| --- | --- |
| | |
| | |
| | |
| | |
| | DBAL-A2 |
| | |
| | |
| | |
| | |
| | |
| | |
| | |
| | |
| | |
| | |
| | |
| | |
| --- | --- |
| | |
| | AN/PVS-18 M983 |
| | GT14 |
| | |
| | |
| | |
| | LRS Surveillance |
| | |
| | |
| | |
| | |
| --- | --- |
| | BTS Thermal |
| | |
| | |
| | |
| | |
| | |
| | |
| | |
| | |
| --- | --- |
| | Bed Vaults™ |
| | |
| | |
| | Extreme Series |
| | Mobile Command |
| | |
| | TrunkVaults™ |
Helpful Info
Export Regulations
FAQ's
How to Order
Terms & Conditions
<![if !vml]>

<![endif]>
<![if !vml]>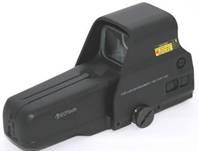 <![endif]>
DISCONTINUED
The new 557.AR223 has been developed to optimize the functionality of the HWS (HOLOgraphic Weapon Sight). The buttons have been moved from the back to the left side for instant access, allowing a magnifier, Night Vision, or a BUIS (Back-Up Iron Sight) to fit closely to the HWS body. This new button position allows the user to operate the HWS function switches easier than ever before. Additionally, a portion of the front base has been raised to allow the sight to fit over standard hand guards found on many M-4 or M-16 style weapons.
<![if !vml]>

<![endif]>
The 557.AR223 is configured with a new ballistic matching reticle image for the M4 carbine. The battle tested circle/dot reticle will be offered along with a series of 1 MOA aiming dots that are vertically aligned and calibrated specifically for the ballistic drop of <![if !vml]>

<![endif]>.223 caliber ammunition.

The reticle provides 4 aiming dots for target distances:
0-300m, 400m, 500m, and 600m.
Operation
Optics
Transmission Holography - 100% Parallax Free
Magnification
1X
Eye Relief
Unlimited
Sealing
Fog proof Internal Optics
Waterproof
Submersible to 33'
Adjustment (per click)
0.5 MOA (1/2" at 100 yards)
Adjustment Range
+/- 40 MOA Travel
Mount
1" MIL-STD-1913 "Picatinny" Rail
Return to Zero
Repeatable to 1 MOA after Re-Mounting
Heads-Up Display Window
Optical Surfaces
Anti-Glare Coating
Window Dimensions
1.2" x 0.85" (30mm x 23mm)
Front Window Material
1/8" Solid Glass
Rear Window Material
Shatter Resistant Laminate 3/16" Thick
Field-of-View
30yds (28m) at a 4" Eye Relief
Standard Reticle
AR223 BDC Reticle w/drop point dots for 400, 500, and 600 meters
Electrical
Brightness Adj. Range
110,000:1 brightest to lowest
NV Brightness Range:
1000:1 with NV switch engaged
Function Button Location
Left side near the rear of sight
Power Source
(2) N Type 1.5V alkaline 3V
Battery Life
1,000 continuous hours (lithium) at nominal setting 12; 600 continuous with AA alkaline
Brightness Settings
30 with scrolling feature (10 settings for NV use)
Auto Battery Check Indicator
Flashing reticle upon start-up
Auto Shut-down
At 8 hrs- programmable to 4 hrs
DIMENSIONS
Length
Width
Height
5.7" (133mm)
2.1" (49mm)
2.8" (71mm)
ENVIRONMENTAL DATA
Temperature Range
-40ºF to 150ºF (AA Lithium)
-20ºF to +140 (AA Alkaline)
Max Storage Temp.
-80ºC (176ºF)

Home | Contact Us | About KERIF | Export Regulations | How to Order
<![if !vml]>

<![endif]> <![if !vml]>

<![endif]>
(702) 324-6463 / (702) 869-8451 FAX
sales@nitevis.com or kerifnightvision@earthlink.net