| | |
| --- | --- |
| | Bed Vaults |
| | |
| | |
| | |
| | PVS-7 Parts |
| | |
| | Scopecoat Covers |
| | |
| | |
| | |
| | |
| | |
| --- | --- |
| | |
| | Doctor Optic MRD |
| | |
| | |
| | |
| | |
| | |
| --- | --- |
| | GloWands |
| | |
| | |
| | |
| | |
| | |
| | |
| | |
| --- | --- |
| | |
| | AN/PVS-31 BNVD |
| | |
| | |
| | |
| | |
| | BTS Thermal |
| | GPNVG |
| | G15 |
| | |
| | |
| | |
| | |
| --- | --- |
| | |
| | IFF-67 Blood Markers |
| | |
| | |
| | |
| | |
| | |
| --- | --- |
| | |
| | |
| | |
| | AN/PVS-15 |
| | ATN G15 |
| | ATN NVG7 |
| | ATN PVS7 |
| | ATN PS15 |
| | BNVD |
| | ENVG Fusion |
| | SENVG Fusion |
| | SENTINEL BNVS |
| | |
| --- | --- |
| | |
| | |
| | |
| | |
| | DBAL-A2 |
| | |
| | |
| | |
| | |
| | |
| | |
| | |
| | |
| | |
| | |
| | |
| | |
| --- | --- |
| | |
| | AN/PVS-18 M983 |
| | GT14 |
| | |
| | |
| | |
| | LRS Surveillance |
| | |
| | |
| | |
| | |
| --- | --- |
| | BTS Thermal |
| | |
| | |
| | |
| | |
| | |
| | |
| | |
| | |
| --- | --- |
| | Bed Vaults™ |
| | |
| | |
| | Extreme Series |
| | Mobile Command |
| | |
| | TrunkVaults™ |
Helpful Info
Export Regulations
FAQ's
How to Order
Terms & Conditions
ThermoSight T-50 Thermal Weapon Sight
Model #
Description
Laser
Price
26857-200
ThermoSight T-50 Thermal Weapon Sight
*Government only. No private sales
IR
$11,156.00
26857-201
ThermoSight T-50 Thermal Weapon Sight
Visible

$

11,156.00
26857-202
ThermoSight T-50 Thermal Weapon Sight
No

$

10,689.00
Free Shipping and Handling
Call us at (702) 324-6463 to Order or email
KERIF Night Vision adheres to a Minimum Advertised Price (MAP) set by the manufacturer, and anyone not listing MAP is: 1) Breaking the rules; 2) Not an Authorized Dealer; 3) Selling Used, Damaged or Surplus Equipment or 4) Is selling inferior "Knock-Offs". If you find a better advertised price, please let us know and we will try to
meet or beat
that price!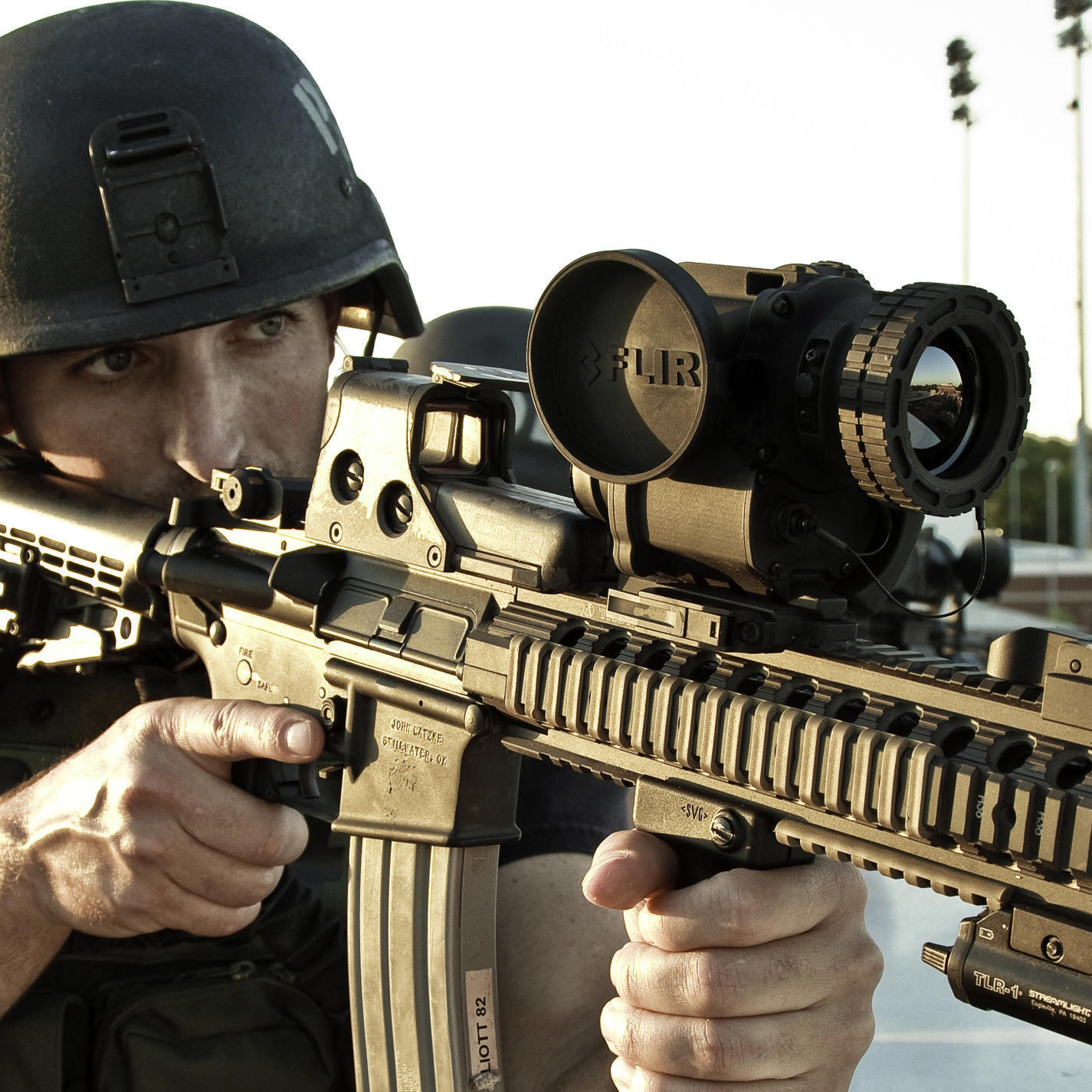 Standard Accessories: Soft Case, Operator's Manual, Quick Reference Card, Battery Cartridge, (3) CR 123 Lithium Batteries, Lens Cloth, Light Shroud/Eye Relief and Video Output Cable.
Product Description
The FLIR ThermoSight® T50 is a Clip-on Thermal Weapon Sight that provides outstanding images in many environmental conditions day or night: fog, smoke, or dust. The T50 sits seamlessly on a standard Picatinny rail and is designed to work with day sights such as an ELCAN or ACOG while maintaining effective boresight. The unique "peri-scope" design allows the shooter to have a higher than rail sight picture which gives an unobstructed aiming point to the target.
There are many features of the ThermoSight® T50: reticles – 3 different internal options which allow it to be used as a standalone weapon sight, on/off, display gain/brightness, polarity, eZoom 2X or 4X, and Stace™ digital enhancements. STACE™ technology is a high contrast and image sharpening enhancement software program which improves resolution and identification. The T50 is powered by (3) CR123 batteries for an operation run time of 9 hours.
The ThermoSight® T50 Thermal Weapon Sight has customized options for choice of laser (None, IR or Visible Red laser pointer). It is a US manufactured system and comes with a one year warranty.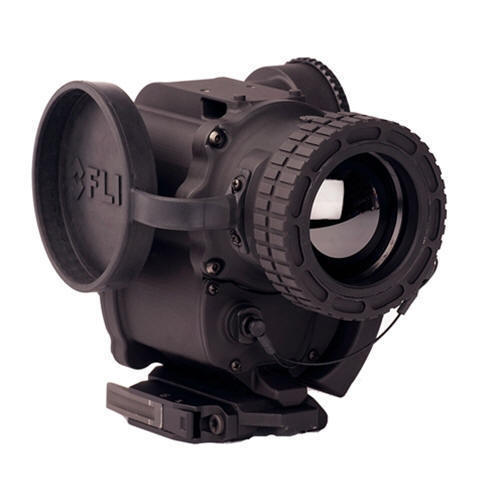 Specifications
| | |
| --- | --- |
| Resolution | 320X240 |
| Frame Rate | 30 Hz |
| Spectral Response | 7-14 um |
| Thermal Sensitivity | 1mK |
| Field of View | 9.33 x 7 |
| Magnification | 1X, 2x, 4X |
| Image Display | 800x600 Mono OLED |
| Polarity Control | White Hot/Black Hot |
| Battery Type | 3 x CR123 Batteries |
| Weight | 23 oz (652 g) |
| Dimensions | 5.3" x 3.5" x 4.0" |

Benefits
*Compatible with standard day optic. Designed to interface with day sights such as Trijicon Advanced Combat Optical Gunsight (ACOG) Model TA31, 4×32 presenting the soldier with the same field of view, keeps reticles calibrated, maintaining boresight.

*Longwave thermal imaging sensor. Provides crisp imagery through total darkness, fog, smoke, dust, and many other obscurants.

*Multi-use design. Offers mission flexibility for use as a thermal weapon sight and as a rugged hand held imager for a variety of scouting, surveillance, and covert operations.

*Rubber shroud. Ensures covert operation by eliminating illumination of the operator from the viewfinder.

*Small and lightweight. Highly portable design reduces operator fatigue.

*Simple operation. Large, rugged, single button controls for basic image adjustment, no complicated menus to navigate.

*No special batteries required. Runs on CR123 photo cells.
Z
*It's all FLIR inside. FLIR controls the entire supply chain on the critical technology inside the ACTS ensuring fast service and long term support.

Home | Contact Us | About KERIF | Export Regulations | How to Order
<![if !vml]>

<![endif]> <![if !vml]>

<![endif]>
(702) 324-6463 / (702) 869-8451 FAX
sales@nitevis.com or kerifnightvision@earthlink.net