| | |
| --- | --- |
| | Bed Vaults |
| | |
| | |
| | |
| | PVS-7 Parts |
| | |
| | Scopecoat Covers |
| | |
| | |
| | |
| | |
| | |
| --- | --- |
| | |
| | Doctor Optic MRD |
| | |
| | |
| | |
| | |
| | |
| --- | --- |
| | GloWands |
| | |
| | |
| | |
| | |
| | |
| | |
| | |
| --- | --- |
| | |
| | AN/PVS-31 BNVD |
| | |
| | |
| | |
| | |
| | BTS Thermal |
| | GPNVG |
| | G15 |
| | |
| | |
| | |
| | |
| --- | --- |
| | |
| | IFF-67 Blood Markers |
| | |
| | |
| | |
| | |
| | |
| --- | --- |
| | |
| | |
| | |
| | AN/PVS-15 |
| | ATN G15 |
| | ATN NVG7 |
| | ATN PVS7 |
| | ATN PS15 |
| | BNVD |
| | ENVG Fusion |
| | SENVG Fusion |
| | SENTINEL BNVS |
| | |
| --- | --- |
| | |
| | |
| | |
| | |
| | DBAL-A2 |
| | |
| | |
| | |
| | |
| | |
| | |
| | |
| | |
| | |
| | |
| | |
| | |
| --- | --- |
| | |
| | AN/PVS-18 M983 |
| | GT14 |
| | |
| | |
| | |
| | LRS Surveillance |
| | |
| | |
| | |
| | |
| --- | --- |
| | BTS Thermal |
| | |
| | |
| | |
| | |
| | |
| | |
| | |
| | |
| --- | --- |
| | Bed Vaults™ |
| | |
| | |
| | Extreme Series |
| | Mobile Command |
| | |
| | TrunkVaults™ |
Helpful Info
Export Regulations
FAQ's
How to Order
Terms & Conditions
Our New & improved Spotlight lasts twice as long than our others, super light weight and all around great!
$129.00 KNVIR-G1M DISCONTINUED Limited Stock Available
1 Million Candle Power
LE/Govt. $Please call for Discounts
Long Range 830nm Infrared illuminator
Enhance your Night Vision Detection Range and Recognition Abilities simply by adding an inexpensive Infrared Light. Operates the same as a regular Flashlight or Spotlight when used with Night Vision Devices, yet virtually undetectable to the naked eye. Keeps your position covert while brightly illuminating your target.
New product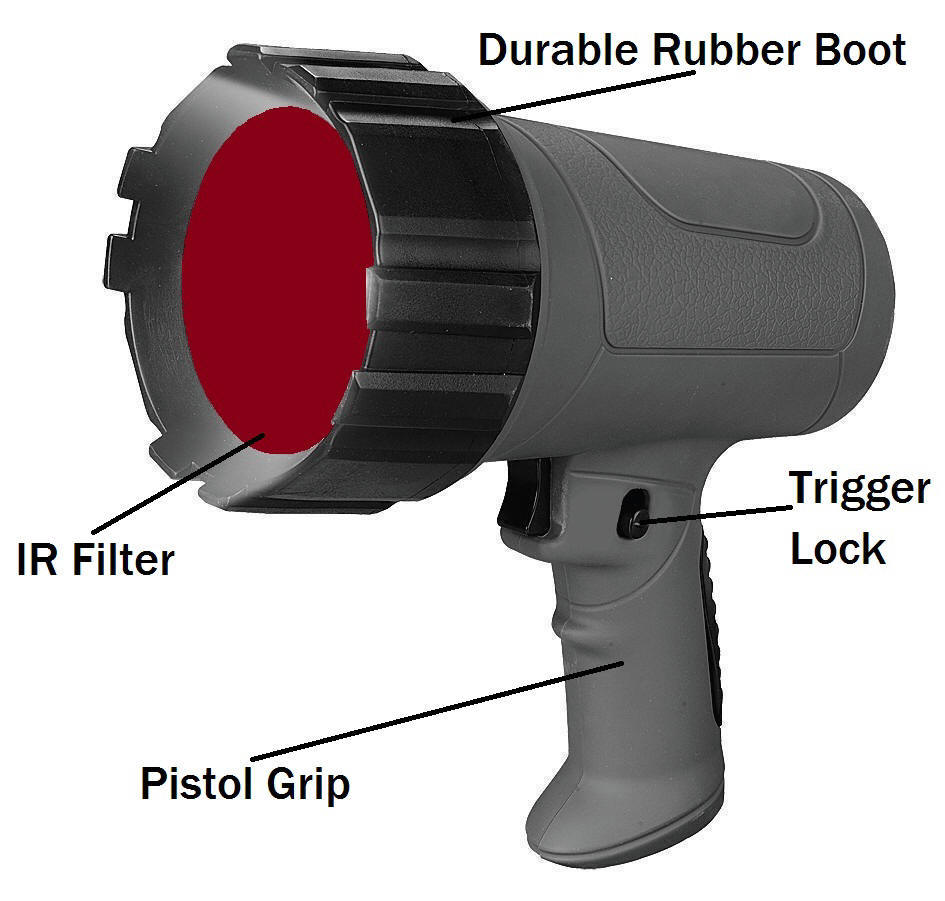 NiteLite: KNVIR-G1M 1 Million Candle Power
KERIF: LE/Govt. $Please call for Discounts
Long Range Infrared illuminator
12vdc Cordless Rechargeable Infrared Spot/Flood Light

Battery Rating: 3.7V / 2200mAh

Battery Type: Li-ion

AC/DC Adapter Input Rating: 120V~ / 60Hz / 35mA

Cigarette Lighter Adapter Input Rating: 12V DC, Fuse: 2A 250V

Light Output: 1 Million Candlepower


ü 120 volt AC/DC Converter
ü 12 volt DC Vehicle Accessory Plug
ü Soft Carry Case w/Belt Loop for AC Charger and DC Cable
ü Non spill able 6 volt Rechargeable Sealed Battery

Home | Contact Us | About KERIF | Export Regulations | How to Order



(702) 324-6463 / (702) 869-8451 FAX
sales@nitevis.com or kerifnightvision@earthlink.net