| | |
| --- | --- |
| | Bed Vaults |
| | |
| | |
| | |
| | PVS-7 Parts |
| | |
| | Scopecoat Covers |
| | |
| | |
| | |
| | |
| | |
| --- | --- |
| | |
| | Doctor Optic MRD |
| | |
| | |
| | |
| | |
| | |
| --- | --- |
| | GloWands |
| | |
| | |
| | |
| | |
| | |
| | |
| | |
| --- | --- |
| | |
| | AN/PVS-31 BNVD |
| | |
| | |
| | |
| | |
| | BTS Thermal |
| | GPNVG |
| | G15 |
| | |
| | |
| | |
| | |
| --- | --- |
| | |
| | IFF-67 Blood Markers |
| | |
| | |
| | |
| | |
| | |
| --- | --- |
| | |
| | |
| | |
| | AN/PVS-15 |
| | ATN G15 |
| | ATN NVG7 |
| | ATN PVS7 |
| | ATN PS15 |
| | BNVD |
| | ENVG Fusion |
| | SENVG Fusion |
| | SENTINEL BNVS |
| | |
| --- | --- |
| | |
| | |
| | |
| | |
| | DBAL-A2 |
| | |
| | |
| | |
| | |
| | |
| | |
| | |
| | |
| | |
| | |
| | |
| | |
| --- | --- |
| | |
| | AN/PVS-18 M983 |
| | GT14 |
| | |
| | |
| | |
| | LRS Surveillance |
| | |
| | |
| | |
| | |
| --- | --- |
| | BTS Thermal |
| | |
| | |
| | |
| | |
| | |
| | |
| | |
| | |
| --- | --- |
| | Bed Vaults™ |
| | |
| | |
| | Extreme Series |
| | Mobile Command |
| | |
| | TrunkVaults™ |
Helpful Info
Export Regulations
FAQ's
How to Order
Terms & Conditions

L4 G11, G19, G20 & G34
NVG Head Mounting Systems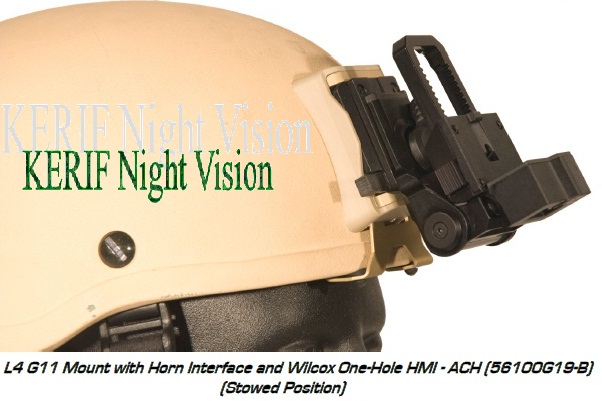 The Wilcox L4 G11 Non-Break away Mount with Horn Interface Shoe allows firm attachment of the AN/PVS-7B/D and AN/PVS-14 arm to a variety of combat helmets when attached to a Wilcox One-Hole HMI, Three Hole HMI, or the standard Army Shroud. The NVG mounting system prevents breakaway of the mount, thereby reducing risk of loss of the NVG.
LIFETIME WARRANTY!


These Mounts are proudly Made in the USA!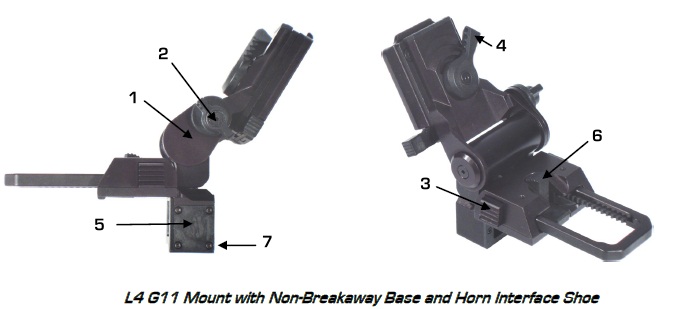 The Wilcox NVG Mounting Systems Product Line is featured with a wide range of adjustments to customize the position of the Night Vision Goggle for proper eye position and relief.

L4 G11, G19, G20, and G34 Non-Breakaway Base and Horn Interface Shoe (See Above):

1

)

The arm pivot allows the mount to "Flip-Up" to a stowed position or "Flip-Down" to an operational position. "Force to Overcome" operation allows the operator to simply move the mount by hand when the goggle is attached. This pivot mechanism is simple and robust by design and cannot loosen over time.

2)

A tilt angle adjustment knob allows the operator to fine adjust the tilt angle of the NVG.

3) Fore/Aft release buttons allow for fore & aft travel of the goggle. Depressing the buttons allows the operator to set the fore/aft position of the goggle. Releasing the buttons secures the goggle in place.

4)

The Elevation Adjustment Lock lever allows the mount to be easily adjusted to the desired vertical position.

5)

A standard horn interface allows for the attachment of the Night Vision Device.

6)

A Horn Release Assist button allows for release of the NVG from the mount.

7)

A sleek, low profile Tilt Adjustment Knob allows for finite tilt adjustment of the NVG by the operator, then lock the position in

place with a simple turn of the knob.

8)

An adjustment mechanism allows the operator to tighten the Horn Interface of the goggle.
SPECIFICATIONS
Weight
6.35 oz (.4 lbs) G11 Mount Only
Material Construction
Light Weight Aerospace Grade Metal
Accommodates NVG Suite
AN/PVS-7B, AN/PVS-7D, AN/PVS-14
Vertical Height Adjustment
.90" Total Travel
Viewing to Stowed Position
117˚ of Travel
Tilt to Horizon
< 12˚ Above < 5˚ Below
Fore/Aft Travel
1.6° Total Travel
Dimensions
(4.65" L) x (2.58" W) x (3.8" H)

<![if !vml]>

<![endif]>

• Non-Breakaway design prevents the mount from breaking away under stress conditions
• Each mechanical adjustment is ergonomically positioned for easy one-handed operation while handling a weapon
• Stow mechanism provides "Force to Overcome" locking in the operational and stowed positions
• Maintains a very low profile stance on the helmet
• A built-in Auto-Shutoff feature allows the goggle to automatically turn off when stowed for NVG devices so equipped
• Dimensions (operational) 4.65" L x 2.58" W x 3.80" H
•
Weight (G11 Mount Only) .40 lb. (6.35 oz.)
•
Material Construction: Light Weight, Aerospace Grade Metal
•
Accommodates NVG AN/PVS-7B/D, AN-PVS-14
•
Vertical Height Adjustment: .90" Total Travel
•
Fore/Aft Travel: 1.60" Total Travel
•
Tilt to Horizon: 12 Above, 5 Below
•
Flip: 110°
COLOR SAMPLES

(AVAILABLE AS NOTED)

<![if !vml]>

<![endif]>
56100G19 L4 G11 Non-Breakaway Mount with Horn Interface Shoe and Wilcox One-Hole HMI - ACH/CVC
56100G20 L4 G11 Non-Breakaway Mount with Horn Interface Shoe and Wilcox One-Hole HMI - PASGT
56100G34 L4 G11 Non-Breakaway Mount with Horn Interface Shoe and Wilcox Three-Hole HMI - PASGT
28300G11
L4 G11 Non-Breakaway Mount with Horn Interface Shoe Only - ACH/CVC
56100G04 Wilcox One-Hole HMI - ACH/CVC Only
56100G10 Wilcox One-Hole HMI - PASGT
56100G34 Wilcox Three-Hole HMI - ACH Only
56100G09 Ballistic Hardware Kit

Home | Contact Us | About KERIF | Export Regulations | How to Order
<![if !vml]>

<![endif]> <![if !vml]>

<![endif]>
(702) 324-6463 / (702) 869-8451 FAX
sales@nitevis.com or kerifnightvision@earthlink.net