The EXPS3 Model HOLOgraphic Weapon Sights (HWS) are fully compatible with all generation levels of Night Vision intensifier tubes. A special Night Vision (NV) setting allows the operator to immediately drop the brightness intensity of the holographic reticle to eliminate any "halo" effect while viewing through an image intensifier tube. The EXPS3 can be positioned in tandem behind Night Vision intensifiers without any "bloom" of the target area. Now, operators can combine the proven Night Vision technological advantage with a superior close quarters weapon optic to achieve greatly enhanced weapon aiming - in complete darkness.
Unlike active IR laser pointer systems, the HWS is a passive system and emits no muzzle-side signature. While in the NV mode, the HWS is not detectable by enemy night vision surveillance systems, providing operators with a stealth means for effective nighttime weapon aiming. All optical surfaces are flat and treated with anti-reflective coatings eliminating additional muzzle side signature due to reflective glare. No need for costly glare elimination filters that reduce the effective light transmission and further dim the target area. The projected reticle pattern is only visible to the operator.
The EXPS3's unique switch allows the operator to instantly drop the holographic reticle brightness to the NV mode of operation. The operator has the ability to toggle back and forth between the NV mode and the normal day/night operation within fractions of a second. The EXPS3 has 10 distinct Night Vision settings to provide maximum flexibility to the operator. Typically 3 to 4 brightness settings are not enough to support a host of constantly changing conditions including manufacturing variances in the sensitivities of the image intensifier tubes, varying ambient environments, and varying light gathering sensitivities of the human eye across users. The EXPS3 still maintains the 20 normal brightness settings for normal day/night operations.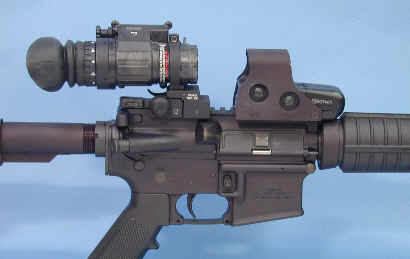 The typical configuration is with both the monocular night vision system and the HWS mounted in tandem on the weapon's receiver. Operators can also co-witness the holographic reticle with head/helmet mounted monocular night vision image intensifier systems, even on a partial cheek-weld on the weapon's stock. This allows the operator added flexibility and greater versatility when deploying with night vision systems in the ever changing battlefield environments.