| | |
| --- | --- |
| | Bed Vaults |
| | |
| | |
| | |
| | PVS-7 Parts |
| | |
| | Scopecoat Covers |
| | |
| | |
| | |
| | |
| | |
| --- | --- |
| | |
| | Doctor Optic MRD |
| | |
| | |
| | |
| | |
| | |
| --- | --- |
| | GloWands |
| | |
| | |
| | |
| | |
| | |
| | |
| | |
| --- | --- |
| | |
| | AN/PVS-31 BNVD |
| | |
| | |
| | |
| | |
| | BTS Thermal |
| | GPNVG |
| | G15 |
| | |
| | |
| | |
| | |
| --- | --- |
| | |
| | IFF-67 Blood Markers |
| | |
| | |
| | |
| | |
| | |
| --- | --- |
| | |
| | |
| | |
| | AN/PVS-15 |
| | ATN G15 |
| | ATN NVG7 |
| | ATN PVS7 |
| | ATN PS15 |
| | BNVD |
| | ENVG Fusion |
| | SENVG Fusion |
| | SENTINEL BNVS |
| | |
| --- | --- |
| | |
| | |
| | |
| | |
| | DBAL-A2 |
| | |
| | |
| | |
| | |
| | |
| | |
| | |
| | |
| | |
| | |
| | |
| | |
| --- | --- |
| | |
| | AN/PVS-18 M983 |
| | GT14 |
| | |
| | |
| | |
| | LRS Surveillance |
| | |
| | |
| | |
| | |
| --- | --- |
| | BTS Thermal |
| | |
| | |
| | |
| | |
| | |
| | |
| | |
| | |
| --- | --- |
| | Bed Vaults™ |
| | |
| | |
| | Extreme Series |
| | Mobile Command |
| | |
| | TrunkVaults™ |
Helpful Info
Export Regulations
FAQ's
How to Order
Terms & Conditions
Wilcox Binocular Bridge Assembly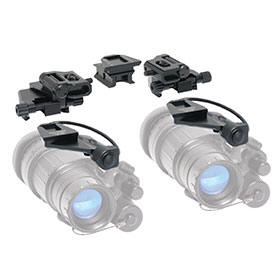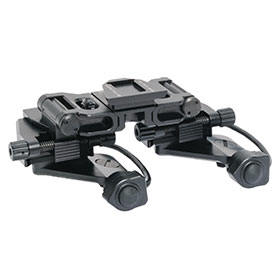 P/N 61300G16
MSRP: $1,033.76 KERIF Price: $976.27 Gov't Call for Discount or email
We adhere to a Minimum Advertised Price (MAP) set by the manufacturer, and anyone not listing MAP is: 1) Breaking the rules; 2) Not an Authorized Dealer; 3) Selling Used Equipment or 4) Is selling inferior "Knock-Offs". If you find a better price, please let us know and we will try to meet or beat that price!
By popular demand, Wilcox continues to deliver solutions that are "Modular by Design™" bringing you the new PVS-14 binocular bridge. The new binocular bridge provides versatility allowing the end user to wear a PVS-14 as a Monocular or add a second PVS-14. The same applies to the SkeetIR®x Thermal for binocular needs. Offered in a dovetail shoe or horn interface the PVS-14 Binocular Bridge fits securely into the Wilcox L4 G24 or G11 mount allowing the binocular configuration to be positioned into operational, high ready and stowed positions – the same as in a monocular configuration.
These can be used with most Helmets or with the new Wilcox Skull Lock Headmount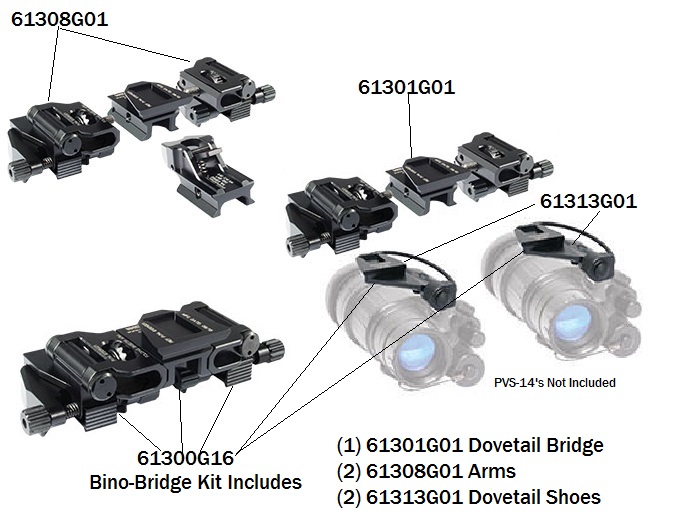 L4 Series
Bino Bridges
MSRP
Gov't
Check
Gov't
Card
Civilian
Check
Civilian
Card
61033G17
PVS-14 Mount Kit
$ 1,741.37
$1,555.39
$1,609.83
$1,588.91
$1,644.53
61300G02
Binocular Bridge for the Mini N-Seas NVG
$ 711.64
$635.64
$657.88
$649.34
$672.06
61300G05
Bino Bridge for MUM-14/A and GT-14
$ 711.64
$635.64
$657.88
$649.34
$672.06
61300G06
Bino Bridge for BAE Oasys SkeetIR & PVS-14
$ 594.11
$530.66
$549.23
$542.10
$561.07
61300G10
FLIR M24 Recon Adapter Mount Kit
$ 447.12
$399.37
$413.35
$407.97
$422.25
61300G13
PVS-14 Bridge/Arm Assy - Dovetail shoe
$ 560.87
$500.97
$518.50
$511.77
$529.68
61300G14
PVS-14 Bridge/Arm Assy - Horn Shoe
$ 531.88
$475.08
$491.70
$485.31
$502.30
61300G16
PVS-14 Bino Bridge
$ 1,033.76
$923.35
$955.67
$943.25
$976.27
61301G01
Modular Dovetail Base
$ 133.90
$119.60
$123.79
$122.18
$126.45
61301G02
FLIR M24 Recon Modular Horn Base
$ 56.05
$50.06
$51.82
$51.14
$52.93
61302G01
Left Arm Assy- Bino Bridge for Mini N-Seas
$ 400.67
$357.88
$370.40
$365.59
$378.39
61303G01
Right Arm Assy- Bino Bridge for Mini N-Seas
$ 400.67
$357.88
$370.40
$365.59
$378.39
61308G01
Folding PVS-14 Arm
$ 273.91
$244.66
$253.22
$249.93
$258.68
61309G01
Binocular Modular Bridge - SkeetIR
$ 220.00
$196.50
$203.38
$200.74
$207.76
61310G01
FLIR M24 Recon Shoe
$ 36.65
$32.74
$33.88
$33.44
$34.61
61313G01
PVS-14 Helmet/Weapon Mount Shoe
$ 202.52
$180.89
$187.22
$184.79
$191.26
The Bino-Bridge for the BAE SkeetIRx and PVS-14 provides the operator the ability to use these devices as either a Monocular or Binocular. The SkeetIRx Bridge fits into our standard G24 NVG mount and provides a solid mounting platform and several adjustment points for a precise fit. The SkeetIRx Bridge also allows the operator to flip up the thermal/NVG flat against the helmet when not being used and can be switched between the different mounting options without the need of special tools or having to take the mount off the helmet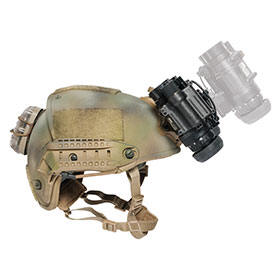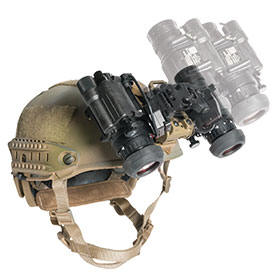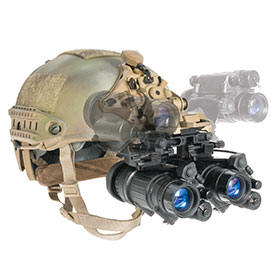 These can be used with most Helmets or with the new Wilcox Skull Lock Headmount

Home | Contact Us | About KERIF | Export Regulations | How to Order
<![if !vml]>

<![endif]> <![if !vml]>

<![endif]>
(702) 324-6463 / (702) 869-8451 FAX
sales@nitevis.com or kerifnightvision@earthlink.net