| | |
| --- | --- |
| | Bed Vaults |
| | |
| | |
| | |
| | PVS-7 Parts |
| | |
| | Scopecoat Covers |
| | |
| | |
| | |
| | |
| | |
| --- | --- |
| | |
| | Doctor Optic MRD |
| | |
| | |
| | |
| | |
| | |
| --- | --- |
| | GloWands |
| | |
| | |
| | |
| | |
| | |
| | |
| | |
| --- | --- |
| | |
| | AN/PVS-31 BNVD |
| | |
| | |
| | |
| | |
| | BTS Thermal |
| | GPNVG |
| | G15 |
| | |
| | |
| | |
| | |
| --- | --- |
| | |
| | IFF-67 Blood Markers |
| | |
| | |
| | |
| | |
| | |
| --- | --- |
| | |
| | |
| | |
| | AN/PVS-15 |
| | ATN G15 |
| | ATN NVG7 |
| | ATN PVS7 |
| | ATN PS15 |
| | BNVD |
| | ENVG Fusion |
| | SENVG Fusion |
| | SENTINEL BNVS |
| | |
| --- | --- |
| | |
| | |
| | |
| | |
| | DBAL-A2 |
| | |
| | |
| | |
| | |
| | |
| | |
| | |
| | |
| | |
| | |
| | |
| | |
| --- | --- |
| | |
| | AN/PVS-18 M983 |
| | GT14 |
| | |
| | |
| | |
| | LRS Surveillance |
| | |
| | |
| | |
| | |
| --- | --- |
| | BTS Thermal |
| | |
| | |
| | |
| | |
| | |
| | |
| | |
| | |
| --- | --- |
| | Bed Vaults™ |
| | |
| | |
| | Extreme Series |
| | Mobile Command |
| | |
| | TrunkVaults™ |
Helpful Info
Export Regulations
FAQ's
How to Order
Terms & Conditions
ELCAN M145 3.4X Combat Optical Sight, Black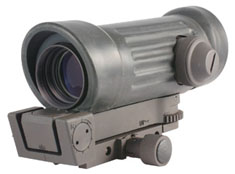 ELCM145C M240/M249 Reticle, Torque Knob Mount
NSN: 1240-01-411-6350
The M145 is also available in the following configurations
ELCM145M4 M4 Reticle, Torque Knob Mount
ELCM145M4W M4 Reticle, 5.56 NATO Wingnut Mount
ELCM145M4W2 M4 Reticle, 7.62 NATO Wingnut Mount



MSRP: 1,622..00 KERIF Price: $1,372.00
DISCONTINUED***LIMITED STOCK AVAILABLE
To Order, please call (702) 324-6463 or email or Buy Online
******
*HUGE DISCOUNTS AVAILABLE FOR MILITARY & LE*

Features

Black Finish, Rubber Armored and Rugged

MIL-SPEC Rated Waterproof to 20 Meters (66 Feet) for 2 Hours

Eye relief (Cheekweld) and bore sighting remain constant

Large, low light exit pupil remains constant

High efficiency coatings for extended low light performance

Retains Zero Time-After-Time for Dependability with your Accuracy

Rugged, Reliable Performance

Shock Protected Precision Optics

Torque Knob Mount (Included) fits any MIL-STD-1913 Picatinny Rail

Rubber Lens Covers and Anti-Reflection Device (ARD) is Included

Military members may order optional LASER Filters

LED Illuminated Reticle Center for M240/M249 Machine Guns

One Year Warranty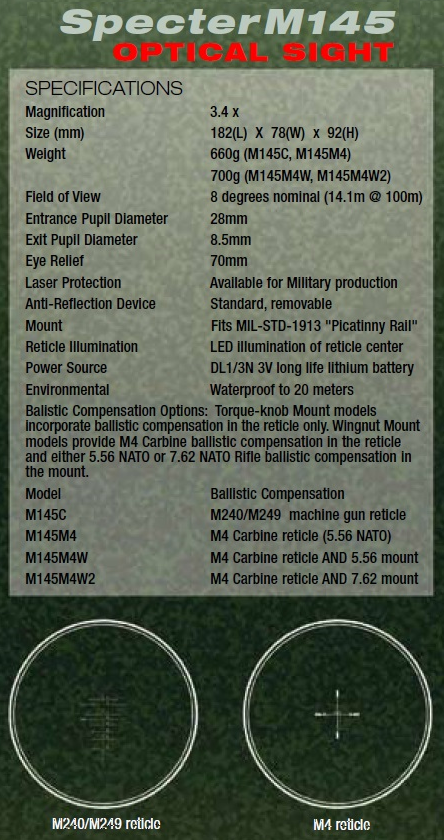 The ELCAN M145C 3.4x Combat Optical Sight, M240/M249 Reticle, Torque Knob Mount (ELCM145C) was developed specifically for the U.S. Army to be used as the main battle sight for their M240 and M249 machine guns.
For Military applications the front objective can be fitted with a LASER Filter and Anti Reflection Device (ARD), also known as a "Killflash". The ARD and Lens covers are standard equipment that is included for all customers.
The Rotary Knob on the side has 1 Off position and can be adjusted through (11) Brightness settings for the illuminated 10 - 1200m Ranging Reticle. Rear and front lens covers flip down for storage and transportation.

The Torque Knob models incorporate ballistic compensation in the Reticle only. This sight can be mounted to any MIL-STD-1913 rail in seconds, and will retain zero when removed and re-attached to your weapon, time after time. This is the kind of dependability that you should come to expect from ELCAN. The M145C is built to stringent specifications and is designed for extreme-duty applications where only the most rugged equipment will suffice.
ELCM145C System Technical Specifications

Eye Relief

●

70mm

FOV Field of View

●

8º nominal 14.1m(146.3')@100yds

Apparent FOV

●

27.2º

Magnification

●
3.4X

LASER Protection

●
Military Production Only
ARD
●
Standard, Removable

Ballistic Compensation

●
Blended 7.62/5.56 NATO M240/M249 Machine Gun Reticle

Reticle: M240/M249

●
Calibrated Crosshair with Range Estimation
US Army Machine Gun Ranging Reticle, Center Illuminated
Ballistic Calibration 300 - 1200 m

Reticle Illumination

●
LED illumination of center reticle, 11 Brightness Settings

Mount.

●
MIL-STD-1913 Picatinny Rail Base Requirement

Attachment

●
US Army Torque Knob

Weight

●
1.455 lbs. (660g), 23.28 oz.

Size in mm

●
182(L) x 78(W) x 92(H)

Size in inches

●
7.165(L) x 3.071(W) x 3.622(H)

Internal Battery

●
DL 1/3 N, 3V Lithium (Included)

Entrance Pupil Dia.

●
28mm (1.102")

Exit Pupil Dia.

●
8.5mm (.3346")

Purging

●
Dry Nitrogen Purged

Fixed Focus Range

●
20m (21.87 yards) to ∞ (infinity)

Adjustment Range

●
0.25 mil detent zeroing adjustments

Line of Sight

●
Identical to ELCAN Optical Sight ≈ M16/AR15 Iron Sight

Battery Life

●
175 hours typical

Exterior Finish

●
Black Anodized w/Chemical Resistant Rubber Armor Casing

Operating Temp

●
-50°F to +120°F (-45°C to + 49°C)

Waterproof

●
20 m (66') for 2 hours

Shockproof

●
Designed to survive standardized NATO drop test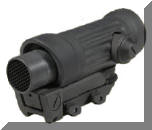 The Elcan SpecterM145C Optical Sight combines ELCAN's legendary robustness and optical brilliance with a Ballistically calibrated LED-illuminated ranging reticle. It is designed for application to Machine Guns, M4 Carbines, M16/AR15 and AR10 rifles and has been proven to withstand the rigors of modern combat.

The ELCAN M145C has proven its effectiveness on a variety of high-powered rifles and machine guns, permitting tracer rounds and fall of shot to be clearly seen at extended ranges.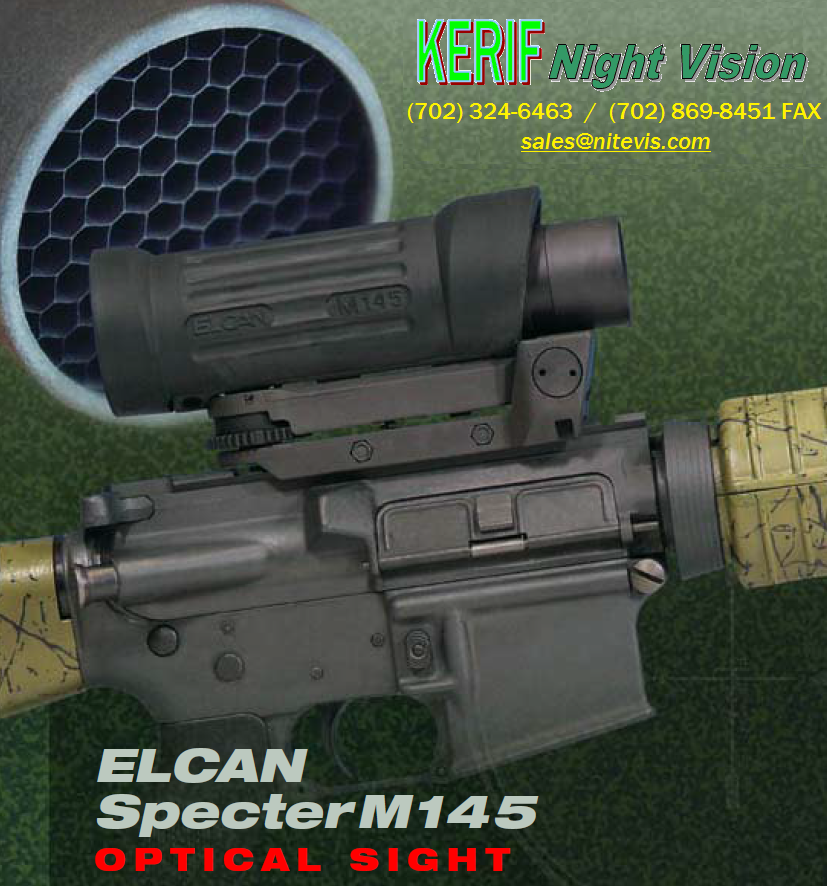 ELCAN Mount, Black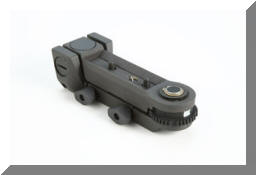 ELC556MT GEN-4 SSL Optical Sight Mount (.223)
KERIF Price: $620.00 - 10% ($62.00) = $558.00
or Buy Online...


To Order, please call (702) 324-6463 or email
******
*HUGE DISCOUNTS AVAILABLE FOR MILITARY & LE*
ELCAN Mount, Black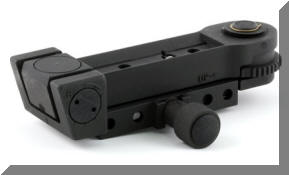 ELC145MT Elcan Torque Knob Optical Sight Mount
DISCONTINUED
Specifications

Weight: oz,(g):

11oz., (300 grams)

Size (mm):

5.16" x 1.93" x 1.38", (131 x 49 x 35)

Base Requirement:

MIL-STD-1913 "Picatinny Rail"

Base Attachment:

clamping foot with metal wing nuts

Windage and Elevation:

0.25 mil detent zeroing adjustments

Elevation Adjustment Range:

50 mils

Windage Adjustment Range:

45 mils

Surface Finish:

Grey/Black hard anodized

Instrument Attachment:

120° V-block with (2) M5x0.8mm pitch hold-down cap screws, 38mm spacing on long-axis centerline

Durability:

Designed to withstand a drop of 5 feet onto concrete while attached to an 17.6 lb weapon
Other ELCAN sights you may want to look at are listed below.
ELCAN Dual Field of View 1X - 4X SpecterDR, Black
IN STOCK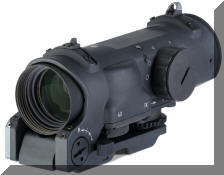 DFOV14-C1 5.56 Reticle

(CX5395 Ballistic Reticle)

or
DFOV14-C2 7.62 Reticle

(CX5396 Ballistic Reticle)




MSRP: $2,712.00

ON SALE: $1,670.00




Plus

ARD (KILLFLASH) & FLIP-COVER SET
Phone Orders, call (702) 324-6463 or email




*

*




ADDITIONAL INCENTIVES AVAILABLE FOR MILITARY/LE & FIRST RESPONDERS
ELCAN Dual Field of View 1X - 4X SpecterDR, FDE
IN STOCK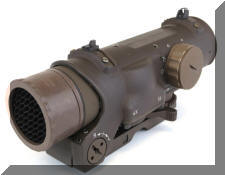 DFOV14-T1 5.56 Reticle,
CX5395 Ballistic Reticle
DFOV14-T2 7.62 Reticle,
CX5396 Ballistic Reticle

MSRP: $2,712.00

ON SALE: $1,670.00




Plus

ARD (KILLFLASH) & FLIP-COVER SET
Phone Orders, please call (702) 324-6463 or email




*

*




ADDITIONAL INCENTIVES AVAILABLE FOR MILITARY/LE & FIRST RESPONDERS

ELCAN SpecterOS4 Combat Optical Sight, 4X, Black IN STOCK


SFOV4-A1 5.56 (CX5755 Dual Illuminated Ballistic Chevron)
SFOV4-C1 5.56 (CX5855 Dual Illuminated Ballistic Crosshair)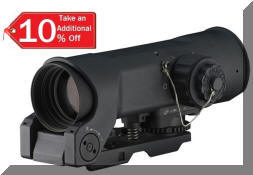 MSRP: $1,465.00 ON SALE: $999.00
INCLUDES ARD (KILLFLASH) & Scopecoat
To Order call (702) 324-6463 or email
**
DISCOUNTS AVAILABLE FOR MILITARY/LE



Home | Contact Us | About KERIF | Export Regulations | How to Order



(702) 324-6463 / (702) 869-8451 FAX
sales@nitevis.com or kerifnightvision@earthlink.net